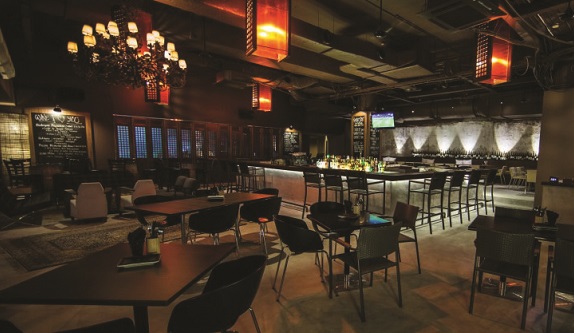 Tiong Bahru Bar, #01-01 3 Seng Poh Rd, Tel 6438 4380
Not to be confused with Tiong Bahru Bakery, Tiong Bahru Bar (TBB) is a hip new space, brought you by Chris Chong and Kaz Sajim, the people behind The Disgruntled Chef, CM-PB and Skyloft.
Since its gentrification, rent in the hip Tiong Bahru neighborhood has skyrocketed – but this hasn't deterred Chris and Kaz in transforming what was an old Chinese restaurant into minimalist space awash with industrial overtones.
Located on Seng Poh Road, slightly off the beaten path of Tiong Bahru's main food strip, the 150-seat venue boasts a central bar with open-front verandah, cigar niche and more than 400 wine labels. The wide-open space features concrete walls and floor, exposed vents and steel beams plus an eclectic array of mismatched sofas, chairs, olde-worlde chandeliers and Persian rugs.
There are no bespoke cocktails here, although all of the standards are on the extensive menu; the mojitos are the signature drink with delicious muddled berries, lychee or mango – perfect on a hot afternoon! Populating the extensive list are bottled beers and ciders, Champagne, sprits, a global wine list and Cuban cigars if you're in the mood. The generous happy hour is on daily until 7pm, so it pays to come here early and stay until closing (2am) as this is the only establishment in Tiong Bahru that opens late.
We decided to kick off with a sparkling mixed berry mojito ($10 in happy hour) while we planned our meal. There's Spanish-style tapas on offer, as well as pastas, soups, salads, mussels and all-day breakfasts. We started our meal with a pot of mussels cooked in coconut cream, lemongrass, ginger and chilli. We followed with grilled gambas (crispy prawns cooked in garlic), the perfect openers served with our moreish mojitos. We then moved on to a bottle of wine – the helpful staff recommended a light French red. But not being one to pass up a well-priced NZ Sav, we chose a bottle of Hunky Dory Sauvignon Blanc ($34 in happy hour). For our main course we share a generous sized Paella, packed with seafood and spicy chorizo, which would easily feed three people. The only disappointing factor of the evening is TBB do not provide free tap water.
TBB is spacious, airy and eclectic, the upbeat music provides great atmosphere without drowning out conversation and coupled the extensive drink list, generous happy hour and satisfying food menu we will definitely be back albeit with our own water.
This article was originally published in September 2013.