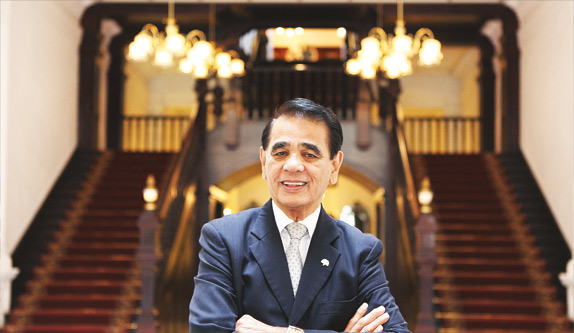 Kieran Nash meets the Raffles Hotel's resident historian Leslie Danker, who has worked there for 41 years.
Actor John Wayne was "a nice man. Very tall – and humble. Soft spoken, you know?"
So says the Raffles Hotel's resident historian Leslie Danker, a grandfatherly figure with a twinkle in his eye and 41 years of experience working at one of Asia's most famous hotels.
Danker has an opinion on plenty of other famous people, too. Michael Jackson? "Very quiet. Strange." Queen Elizabeth II? A very nice lady. Softly spoken."
Jackie Chan? "A very nice, jovial man."
This is a side-effect of being the longest-serving employee of a hotel with a long history – and now Danker is becoming part of the history himself.
He's sitting at a side table in the Raffle's grand lobby, looking as much a part of the furniture as the antique-looking chair he's sitting on.
So how did he come to be here?
"I joined the hotel in 1972. When I joined, it was a completely different style of management." Starting out in maintenance surplus, Danker worked his way through different departments, before becoming front office manager. After the hotel was listed as a national monument in 1987, a new company bought the hotel and was given the job of restoring it to its former glory. Recognising his love and passion for the place, the new owners kept him on as guest relations manager, the only employee to keep his job.
In that role, "a lot of people asked about the Raffles' history. I didn't have much information, as there was no Google at that time, so I went to the national library, but some of the facts were not accurate." So Danker started researching, and eventually, " the last two general managers told me I talk so much about the history so I'm going to change your designation to resident historian."
Although recently his bosses have told him to slow down a bit, Danker takes people and groups on tours through the halls, filling them in on the history of this colonial landmark. As we get up from our seats and he shows me around, it's plain to see there's plenty of history here.
The founders of the hotel, the Sarkies brothers, weren't even British, as one would imagine given the name and feel of the place. They were, in fact, Armenian.
With the opening of the Suez Canal more British people were coming here. Deciding against naming the hotel after themselves, the brothers realised the large British population here all knew of Stamford Raffles, and it would be better for business to name it after Singapore's founder.
Where the hotel currently sits was a huge 10-bedroom bungalow overlooking the sea, which belonged to an Arab trader. The brothers decided to buy it and convert it into a hotel.
After converting it, and adding new wings to cope with demand, the brothers noticed that it was just too small, and demolished it in 1889 to make way for a new building.
Reopening in 1899, it was at the forefront of technology – the first building in Singapore to have electric lights and fans.
So marked the heyday of the hotel, a venue for grand balls, soirees, and escaped tigers.
In 1902, a tiger escaped from a travelling circus, and found its way under the Raffles' billiards room to hide. Local sharpshooter and principal of the Raffles Institute Charles Phillips was called on to help, but had just returned from the governor's ball, boozed up and a bit worse for wear. But, hearing lives were in danger, he marched over in his pyjamas, drew his Lee Enfield rifle and fired three times. "He missed. So he felt embarrassed. I thought, I must redeem my reputation. In the dark he could see the gleaming eyes and shot it between the eyes."
Mr Phillips may have garnered fame from this event, but it wasn't quite enough to have a suite named after him. That honour was reserved for more notable guests.
One is famed author Rudyard Kipling, who famously wrote "The food is as excellent as the rooms are bad."
Another is playwright and novelist Somerset Maugham, who stayed three times."He spent a lot of time writing. Before he left, he gave a beautiful quote about the hotel: 'Raffles stands for all the fables of the exotic east'."
As well as hosting some of the world's most famous people, the hotel has also made people famous.
Ngiam Tong Boon isn't a household name, but the drink he created – the Singapore Sling – sure is.
Ngiam noticed that British men would sit out on the hotel's veranda and watch the women walk by. Now, at that time, women were not meant to be seen drinking. To make it seem as though they were drinking juice, he created a drink out of gin, cherry liqueur, pineapple juice, lime juice, cointreau, Benedictine, grenadine, and called it the Singapore Sling, "so the men could drink with the ladies". And it's this legacy that keeps people coming back today.
"A lot of tourists come here for Singapore Slings. Just like in Paris, you see the Eiffel Tower, in Singapore you see the Raffles Hotel. I think it's the uniqueness of the hotel which attracts people. When people come to Singapore sightseeing, this is one of the spots the come."
This article was originally published October 2013.