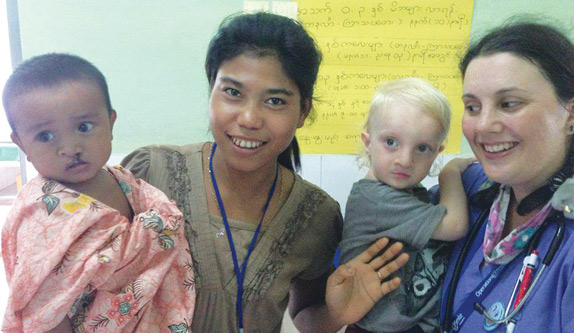 Elischa Montague-Drake spent a gruelling week in Myanmar in 2013, braving this and that to help repair the smiles of more than 100 Burmese children.
My son Orlando was born with a bilateral cleft lip and palate and we were fortunate enough to have him treated by Prof. Dr Vincent Yeow, a world-leading paediatric plastic and reconstructive surgeon who volunteers with Operation Smile Singapore to deliver safe surgeries on cleft lip, cleft palate, burns, tumors and other facial deformities in third world countries.
Following my son's treatment, I was happy to accept the invitation from Operation Smile on the nursing team to join their mission to Myanmar and soon found myself on a flight with 32 other volunteers bound for Yangon, Burma.
The team arrived late on Saturday, and by early Sunday morning, the screening process for the surgeries began at the Old Blood Bank building opposite the Yangon General Hospital.
Hundreds of families were at the gate, all scrambling to get inside for a chance to be seen and a hope to have their child operated on. For some, it had taken several days to get from their village to Yangon, some travelling by donkey or foot, then up to 18 hours by bus on bumpy roads.
The children looked exhausted, the heat was scorching, and yet their parents sat patiently soothing their infants and children with straw fans.
The scene was confronting. They were worst cleft cases I had ever seen and by midday, I had seen 90 patients. It all became a blur, almost robotic to take their vital signs and send them on to the surgeon.
Some children were so malnourished that it was hard to guess their ago: I held one baby and thought she was a new-born; at 3.5kg she was one year old.
I could tell how poor the children were by their lack of cleanliness and dirty clothes – I don't know the last time they bathed, yet they still seemed like the happiest people I had ever meet.
The team greeted each child and family member with smiles and we were fortunate enough to have translators to bridge the communication gap. By Sunday evening, the weary team had screened hundreds of children, shared laughter and stories from our home countries and accepted 136 children for surgery.
For some, it was heart-breaking to tell the mummies that their child did not qualify for surgery, almost like delivering a death sentence. Thankfully, out of 136 children, only 10 did not qualify.
The case that broke my heart was an 18month old boy with a cleft lip and palate brought in by a local nurse who found him in a rubbish dump.
We fed him some porridge – he was starving and he screamed for hours on end. The surgeons agreed to operate on him but it broke my heart to know that he still had no one to love him, he was still abandoned. It was hard to say goodbye to him that night as the Burmese nurses took him back to his new home at the hospital.
The following day was the start of the week of surgery. We walked straight past the general hospital and into a field with a slum building, the slum being the Cleft and Craniofacial Centre, Yangon.
Feral dogs, no air conditioning, putrid stenches, no sinks in the corridors for nurses to wash their hands and archaic old metal beds with no linen greeted us. Medical equipment was non-existent, but donated medical supplies had arrived from Singapore and the USA, including antibiotic ampoules, analgesia, liquid hand gel, gloves, intravenous drips and fluids and wound care.
Theatre was in an area out the back, only apparent by a wobbling metal fence that read "operating theatre" from outside.
Surgeries had commenced, parents were scared, and kids were screaming. As a woman broke down as she gave her baby to the surgeon, I held her and pointed to photos of Orlando on my phone and kept repeating over and over "it's going to be ok".
I don't know if she understood, but the bond between mothers sharing the same pain is strong. As I wiped a tear from her face and held her close, I knew she understood I had gone through the same ordeal.
Hours passed, and as she saw her son for the first time after surgery the joy on this mothers face was indescribable. Her son now looked like a normal little boy.
I could then truly understand how rewarding the missions were, all the hard work paid off just to get a glimpse of the parents' happiness to see their child for the first time after surgery. One by one, the surgeries continued well into the night – although the team was getting tired, no one complained.
The days and nights continued, and by day three, the team were exhausted – some days had already been as long as 17 hours. Each night, the team caught the bus back to the hotel sharing stories from the day and the realisation kicked in that we needed to reserve all our energy for the days that awaited.
Again, the days became robotic, listening to children crying and doing what we could do.
At one stage. I had 14 patients to care for in the same room. Babies started to share beds, parents slept on the floor, and children went to the toilet in plastic bags on the floor.
Each day was exhausting and I still felt dumbfounded on the lack of medical facilities. However, the parents were eternally grateful for all that the team did and I admired their unconditional love and care that they had for their children, patiently sitting or laying beside them in not so desirable conditions.
On the last day of the mission, the abandoned infant had his surgery and I was overwhelmed by happiness when I saw the amazing job that the surgeons had done on him.
We each took turns to nurse him post operatively and even parents of other children sat by his bed soothing him with their paper straw fans and humming. Operation Smile had successfully operated on 126 children. Families began their journeys back to their villages with new smiles and happiness.
This article was originally published in August 2013.