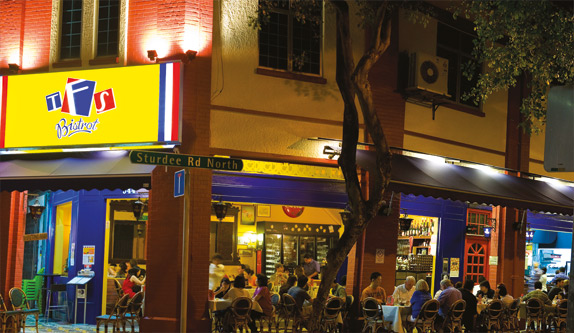 TFS Bistrot, 544 Serangoon Rd, Tel 6299 3544, www.tfsbistrot.com
I had heard about this place from everyone I know, and so decided to go there on a date night. I was not let down.
The TFS Bistrot, formerly The French Stall, is an authentic French eatery in the heart of Little India. It's known for good prices, generous servings and a lively atmosphere, and certainly lived up to its name.
On arrival, we were seated promptly, the place was buzzing with conversation.
The menus arrived, and I was pleasantly surprised to find they offer a three-course set menu for $40, and a two-course set menu for children at just $6.20. Because most French restaurants in Singapore will run you well over $100 for a meal for two without drinks, it was a refreshing change to have an affordably priced, authentic French meal.
To start, I ordered the escargots, served with a garlic butter and a crispy pastry side. As someone new to eating snails, I couldn't help but taste the earthy, soil aftertaste the escargots held. Jacqui was better off, with an excellent French onion soup.
The service at TFS is amazing – the entrées were out almost as fast as we could order them, and the friendly, prompt service continued throughout the evening.
When it came time to order the main course, I chose a baked Welsh rack of lamb, rested in jus with foie gras scented potato croquettes. The serving was very generous, and the lamb cooked perfectly.
Jacqui ordered the grilled duck breast with grilled vegetables and green peppercorn dressing, which oozed flavour and was again on the large side.
You won't get five-star presentation here, but it seems to fit this roadside, home-style kind of operation.
Finally to finish, I had Baked Alaska, a dish I had wanted to try ever since I was a child. It was huge – the lashings of meringue enveloping softly frozen ice cream and a crumbly biscuit base.
Finishing off with espresso, you couldn't ask for a better night of great helpings of great food, in a laid-back setting free of any stuffy pretension.
This article was originally published in October 2013.