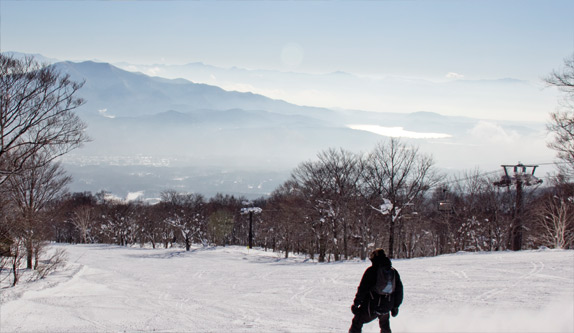 Some Japanese ski towns are so overrun they're called 'Kuta Beach on Ice'. Kieran Nash steers clear, and heads to unspoilt Myoko Kogen for some uninterrupted runs.
It's below freezing outside, but I'm sweating.
Rushing past well-dressed Tokyo commuters, I run to the platform of the Aoyama-Itchome subway station. On cue, trains going in opposite directions screech to a halt, and streams of suit-clad salary men burst from the doors.
Which way to go? I haven't had enough time to get acquainted with Tokyo's tangled subway network. I pick a train and stumble into the carriage just as the doors whoosh to a close. I look at the map. It's the wrong train and it's carrying me further from my destination. I now have 20 minutes to catch the Nagano bullet train, which will carry me from the mad metropolis of Tokyo to the isolated, snowy meadows of Myoko Kogen, a ski field about 220km northwest.
30 minutes later, I'm running through the gate to where the bullet trains depart. My increasingly angry girlfriend Jacqui follows closely. The 20kg packs we're both carrying aren't helping the mood, or the mobility. The train's long gone, so that's a 7500 yen (S$100) ticket down the drain. Or so we think – the next train arrives and we can use our old tickets.
Urban jungle gives way to rural residential in a 260km/h blur, and two hours later we're in Nagano, home of the 1998 Winter Olympics. There's no time to waste, and five minutes later we're on another train, which winds its way north at an easier pace, threading upwards through the snow-draped mountains which look as they've been blasted with freshly-mixed meringue.
The small town of Myoko is a ten-minute drive from the resort of Akakura Kanko, which is our final destination. The van stops at a gathering of small, four-storey hotels opposite a gondola, and we haul our packs to the reception area of Hotel MOC.
We're greeted by Sachiko Mochizuki, the lady of the house, and her small dog Tokyo. Her English is impeccable, and we're handed the keys to our room, a hybrid Japanese/Western creation, which is about four times larger than our not tiny Tokyo hotel room, with heater blasting and four cushions placed on a rattan-clothed floor, on which stands a low table in traditional Japanese style.
The bathroom houses a magic toilet, which greets me with a cheerful, expectant beep each time I duck inside, raising the lid in an inviting gesture. But there's no time to admire the strange Japanese technology. The sun is out and there's snow on the mountain. It's time to sample some powder.
Jacqui and I cross the road, scale a small hill, and we're at the gondola. But first, we have to hire some gear. It's a five-minute traipse to Myoko Snowsports, where we rent our gear. Melbourne photographer Matt Hull, who is here in Myoko Kogen for his fourth season, fills us in. The 31-year-old says Myoko Kogen is far removed from the "Kuta Beach on Ice" which Niseko – the famous ski town on the northern island of Hokkaido is rumoured to be. "Myoko is still somewhat of a hidden gem in Japan, although we are seeing more and more western guests coming through our doors we seems to be attracting the right type of people, guests who are here for a cultural experience as well as a ski holiday. Myoko is not known for its nightlife and has limited establishments to cater for the party-going traveller." It's all well and good that it offers a more authentic experience than the resorts further north, but people who come here care about one thing only – deep powder. Just how much is there? "During the peak season (from the end of December through to late February) we get a lot of storm cycles, with a typical cycle dumping down a lot of snow in one night, anywhere from 40 cm up to 120cm and then the storm breaking for a sunny day afterwards.
"Powder-wise, during peak times it's as light as they come. It's not unusual to have a bow wave of snow around your waist when riding down one of the designated ungroomed runs, so face masks are a must!"
We'll see that for ourselves soon enough.
Shelling out 2000 yen (S$25) for an afternoon's riding, we board the gondola and smoothly careen up the mountain. This side is split between two sides – Akakura Kanko and Akakura Onsen.
The sun is in its final death throes of the day by the time we reach the top, and the view from the top is gasp-inducingly beautiful. A peach hue coats the meringue snow, and the usually monochrome treeline of the opposite mountain is cast in a golden glow. And the snow? It's deep, and there's plenty of it. The runs are wide, fast, and even though it's the afternoon, there are still pockets of untouched powder to smash into dust. There's not a rock or a patch of ice to be seen. Crowds are non-existent. Even though it's peak season, it's not uncommon to look about and not see  a soul.
As the sun sets, we weave our way through the wide meadows and easy tree runs, and we eventually arrive back at the hotel.
Those accustomed to winter sports will understand the need for a shower after a few hours on the slopes, and we are no different. There's only one problem – our room doesn't have a shower. That leaves only the onsen, which presents a few cultural difficulties of its own.
An onsen is a Japanese hot spring, and Myoko Kogen has an abundance. These springs are piped directly to most the inns in the town, and Hotel MOC is no exception.
Unfortunately (depending on your modesty levels), Japanese custom dictates that anyone who enters an onsen must do so without a scrap of clothing. People with tattoos aren't allowed, because traditionally the only Japanese with tattoos were members of the Yakuza organised crime gangs. Times are very slowly changing, and some onsens will let in foreigners who have ink. I don my yukata bathrobe, and descend to the basement. Opening the door to the men's onsen, I step inside a small changing room and get in the nude. A sliding door opens to the room which houses the bath. Here's a disclaimer: I'm not a big team sports guy, so getting butt naked with a bunch of strangers isn't the most natural thing in the world for me. Added to the apprehension are a couple of tattoos on my person. I don't know whether I'll be run out of the place if I try my luck, but what choice do I have?
The door opens in a billow of steam. A couple of Japanese guys and some Swiss tourists are drinking warm Asahis and chatting away. Conversation stops as I sit down at the small shower and scrub the sweat off. Are they offended by my tattoos? I have no idea. They don't tell me to leave, however, and I ease myself into the scorching bathwater. I feel like a lobster, but try to mask it with my best impression of serene relaxation.
I stay in there as long as I can physically handle – about 15 minutes – and when I get out for a cold shower, the room starts to fade to black.
Luckily I pull myself together enough to rinse off and get back into my yukata before floating back up to the room on a hazy cloud of pure tranquility. It's as if I have been flattened by a giant rolling pin.
Over the next five days, Jacqui and I settle into something of a routine. Wake early for breakfast. Up the gondola and chairlifts, down to the foot of the mountain. Repeat. Lunch. More snow. Hotel. Onsen. Dinner (usually consisting of giant bowls of udon noodles). Bed.
The day before we're due to leave, Jacqui and I arrive at the gondola half an hour early and there's already a line. It's been snowing hard all night, the bloated flakes coating everything in sight in a layer about two feet deep.
We're in the third gondola up, behind a group of middle-aged Japanese skiers who have time-travelled straight from the 80's. Their excitement is infectious. Going as high as we can, we emerge. I have been eyeing up a certain black run all week – a steep, wide run flanked by trees but carved into large moguls, which are hell on any snowboarder. Today, though, the moguls are buried deep, and I'm the first on this particular run. Floating both on and through the incredibly light powder, at each turn a wave of snow explodes into smoke, turning my black jacket white. The famed Japanese powder surely lives up to the cliché of "it has to be seen to be believed."
By the time the trail has run its course, I'm sweating. It's freezing outside, but I'm no longer in any rush at all.
This article was originally published in May 2013.
HOW TO GET THERE
Fly to Tokyo, and catch the Nagano Shinkansen (bullet train) to Nagano. From there, it's a 40 minute train to Myoko Kogen. Once in Myoko Kogen, get a taxi or hotel transfer to the resort.
WHERE TO STAY
Hotel MOC is a great, family-run hotel about one minute's walk from the gondola. The $75 per person fee is quite reasonable for Japan, and it includes breakfast. www.hotelmoc.com