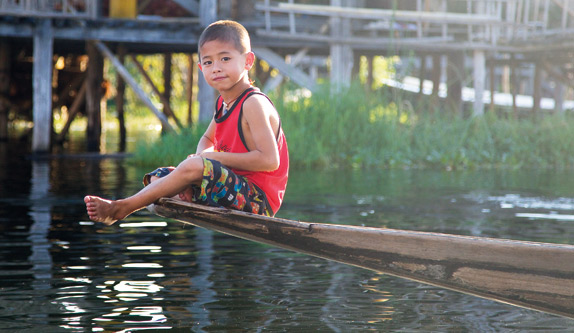 Myanmar: the name generates a flood of emotions. After spending just six days there, I hardly know where to begin. Culturally, as ancient as many European countries, Myanmar was a failed British colony, which achieved brief democracy before darkness descended in 1962. It became an international pariah for 40 years and perhaps the living embodiment of Orwell's 1984, and finally it has become a modern Lazarus as its government turns 180 degrees and marches out of its self-imposed isolation. Myanmar definitely perches on the precipice of a new future.
Change now occurs almost daily. Two years ago Ang San Suu Ki was in jail. This year she's a member of parliament and leader of the opposition. Last year, Yahoo! and many other internet sites were blocked, and you couldn't get a visa at the airport. This week they're not and you can. At the moment you can only change pristine US dollars for Kyat (pronounced "chat") – in maybe a few months you'll be able to change anything anywhere, or use a credit card. Trade sanctions are all but gone, and journalists are tolerated. And next year – who knows?
But there is one thing I hope will never change, and will draw you back again – the warmth and openness of its extraordinary people.
Visiting Myanmar is a little more of a challenge than some other Southeast Asian countries. It's best to engage a Myanmar tourist agent directly, if only to get the internal flights arranged. But once you get used to the delays in emails, the organization is flawless. And on the ground, everything happened for us like clockwork.
We probably spent too long in the capital Yangon and too little up-country. Yangon, or Rangoon as the British re-named it, is fascinating but is not a relaxing place in the heat of the day, even though motorcycles are banned and the traffic is relatively moderate. Ancient Victorian buildings, resplendent with washing hung from windows, trees growing from the plasterwork and satellite dishes sprouting from roofs, slowly crumble into the decrepit city streets. Almost every downtown footpath turns into a market, full of fruit and vegetables and street food, stalls where you can buy a phone call on a land-line, or purchase clothes, flowers, jade or plastic toys. There are even street lawyers with ancient pre-war typewriters, who for a few thousand Kyat will advise you on a legal problem and then type a petition while you wait.
The major hotels are more than comfortable. The Savoy is an old-world bastion of colonial charm, but we chose to stay in the Traders – a monolith of dim lounges and comfortable rooms where most of the business travelers stay. Here the buzz of new opportunities was palpable – the lounge was full of multicultural meetings between Burmese dressed in the traditional longyi (a kind of traditional sarong) and Europeans in ties, smiling and gesticulating over the inevitable cups of tea.
Two attractions stand out in Yangon: the Shwedagon Pagoda and the Bogyoke Aun Sang markets. In a country of pagodas and temples, Shwedagon is the Uluru of Myanmar. Tourists here are outnumbered by the Myanmar, who visit as a matter of course to marvel, meditate and pray amongst its 70 pagodas. We were approached many times by locals, tourist guides and monks wanting to engage us in conversation and proudly show off the country's crown jewel. Almost no-one is reticent about being photographed.
Bogyoke markets are only a few blocks from the Traders, and are stuffed full of the best Myanmar crafts, clothes, food, gems and jewelry. It's hot, but I have never experienced such polite haggling.
"I'm sorry, I don't want any fake glass gems or deep fried crickets or tours around Yangon.
"Oh, okay, thank you sir. Please tell me where are you from, and I must apologise for my poor English".
When it comes to "up-country", there are two essential visits – the ancient plains of Bagan, and extraordinary Lake Inle. Starting around 400AD, the Pagan civilization began building temples and stupas on the plains at Bagan next to the Irrawaddy river. Construction reached a peak in 1100-1300 AD, and there are now some 2200 stupas there, about 50 times more than at Angkor in Cambodia. Our guide was a veritable scholar of all things Buddhist, and we came to understand that in Myanmar, life and Buddhism are one. We saw the plains at sunset from the top of the Minyeingon temple, walked through quiet farming villages and fields of peanuts and sesame plants, visited lacquer workshops, and enjoyed Myanmar curries from the decking at the Thiripyitsaya Sanctuary Resort, overlooking the placid Irrawaddy. Bagan embodies the calm and beauty of Burma, but I have no idea how this area will cope with the vastly expanded tourist numbers that are sure to come.
At Lake Inle, one day and night was definitely not enough. We flew into Heho early in the morning, and were greeted by our wonderful guide, Daw May Lai. She ushered us into a minivan and we drove to the lake (about an hour from the airport), with appropriate stops at a village market and Buddhist monastery. The three of us then transferred to a traditional long boat and motored across the lake's mirrored surface for 20 minutes to the Myanmar Treasure Resort. This beautiful accommodation steps out over the lake in a series of bungalows. There is no air conditioning, but at an elevation of 3000 feet, Inle is much cooler than the plains.
Our remarkable day began with a boat trip past the famous Lake Inle fishermen rowing canoes in the traditional way – with one oar attached to one leg. We glided between the floating gardens – long rows of tomatoes and other vegetables floating in soil supported by woven water hyacinth, and tended by gardeners in canoes. We visited villages built over the lake on stilts, and toured up and down the "streets" as though we were in some ancient version of Venice.
The highlight was the invitation to visit a local family living in a simple, three-room thatched hut, built on stilts above the water in the fisherman's village. Here we met the family and many of their relatives, ranging from a 19-day-old baby to a 78-year-old aunt, all gathered for a pre-festival feast that night and to pay respect to the family matriarch, their 84-year-old grandmother. We gave and received gifts, talked about life, ate fermented tea-leaf salad (lahpet) and other delicacies, thereby ruining our hitherto safe food regime.
We will carry a piece of Myanmar with us forever. And as a photographer, I hope I'll return to more carefully capture the essence of these wonderful people. But for now we'll follow Myanmar's fortunes as she bravely moves into the 21st century, and trust that during the changes that must now inevitably occur, the Golden Land will retain the beauty of its people and strength of its culture that we experienced in our brief visit.
A brief (and incomplete) history of Burma
Modern humans have lived in Burma since 1100BC. Buddhism arrived from India in the 2nd century and became a central tenet of Burmese culture to this day. In the 9th century, the Myamah (Burma) peoples from the Kingdom of Nanzhao in China settled and eventually established the Pagan Empire, which crumbled and reinvented itself over the next 10 centuries. Burma suffered and survived British colonisation in 1886 and Japanese invasion in 1942, before becoming a sovereign democratic nation in 1948. In 1962, democracy died when General Ne Win took control in a coup de etat, and led Burma into an impoverished military-controlled communist state. Hope briefly flared after free elections in 1990, won by the party headed by Suu Ki, the daughter of Aung San, the original father of the nation, assassinated by his bodyguard in 1948. However she was arrested and endured almost 20 years under house detention. Then, with little warning, a miracle occurred in 2010. The government released Aung Sang Suu Ki and other political prisoners, rewrote the constitution, held free elections (albeit for a limited number of seats) and embarked on a series of reforms that continue today.
This article was originally published in March 2013.