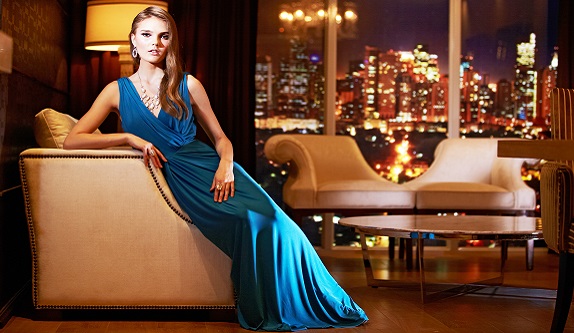 The ticket is bought, the table is full and the gang is ready for their next ball. Well the guys are. For the girls, it's just the beginning.
Black tie, formal, red carpet – all these words send us girls hurtling towards Orchard Road, credit card in hand, to start the search for the new dress.
But what is a formal dress? How do I accessories it? Most importantly, where do I go to find one?
Well, the best black-tie gown is one that suits your personality, body shape and budget. Once you have done a few balls, you may want to mix it up with different dresses that could be a bit more cocktail-style. Regardless of the style, there are few rules I go by when selecting my black-tie outfits.
Choose the right accessories. Strappy shoes, clutch bag and bling jewellery are a must.
If the dress is short, choose strapless, tulle or sequins to make it formal. A dress that could be worn to work won't work! And just because it is long, does not always mean it is black tie.
No matter how cold it may be inside or out, a jacket or wrap that doesn't complement the dress should be left at home.
The right knickers will make or break your outfit. Find the right bra and, more importantly, wear knickers that hold you in with no VPL (visible panty line). To be sure, take the dress in with you to Triumph and try on their range until you have the perfect fit and finish.
Get the right fit. If you have to tug and pull at your dress while trying it on, it will drive you made on the dance floor and will not be a good look when you don't care anymore. Dresses that fall down, ride up or grab in all the wrong spots should be put back on the rack.
Recycle. Choose a different crowd and wear the same dress, and mix it up with a change to the shoe, bag, accessory or the way you do your hair.
Most of all, enjoy the ritual of dressing up and, treat yourself to a makeover. You deserve it!
This article was originally published in April 2013.
Best spots to shop for formal wear in Singapore:
BCBG Maxazaria – Stores at Paragon, MBS and Ion
Ana boutique – Club St – Stockist for Pia Gladys Perry
Willow and Huxley – Amoy St
Karen Millen – Paragon, Ion
Charlie Brown – Online and in Sydney
Coast – Paragon
Raoul – Paragon
Shoes, accessories and bags:
Guess
Haji Lane (for clutches)
Diva
Lovisa
Steve Madden
Nine West