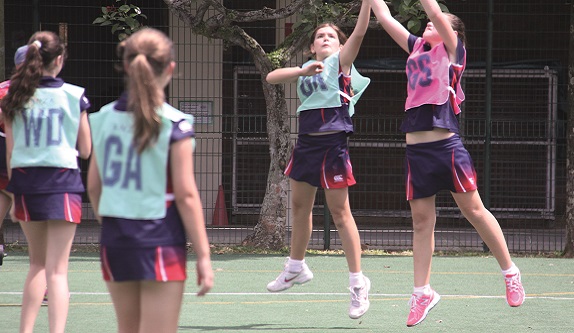 In the past seven years, the amount of girls playing has increased from 60 to 350 (see Note below). All that growth is fantastic for the league, but is a big jump in the workload for new ANZA Netball boss Christine Elliot.
"We needed to change the way things were being run. Two amazing ladies steeped down from running netball for the last five years at the end of our last season.
"We needed to share the load, increase participation in decision making, bring in varying opinions and expertise in the aim to strengthen committee and overall improve the governance of ANZA Netball".
And the aim? "With these building blocks in place, we think we could grow to overtake Soccer as the most popular ANZA sport in Singapore".
To do that we would need many more courts but small problems like this are nothing for this talented team of over achievers!
But what is the benefit that you will see on a Saturday morning? The real aim is to see improvement in the way netball coaching is delivered to these budding Silver Ferns or Aussie Diamonds. They have established new roles such as coaching coordinator who will help develop the coaching programme, arrange courses and seminars for coaches and generally standardise the way the coaching is performed across the ANZA group. With the transient nature of Singapore we want our young netballers to develop skills so that they could walk onto any court around the world and do ANZA Netball proud.
They are also developing the position of age group coordinator. This person will be in charge of their age group, picking the teams, arranging the coaches, allocating courts and generally dealing with all queries and problems within their groups. Again sharing the load this person will be in charge of 30 to 70 girls (and their parents) and will be able to support the development of coaches in their age-group, arrange mini-tournaments and perhaps even outside matches when available.
Finally, there is a plan to provide a full representative programme for girls 10 and over so those girls who want to go further with their netball can participate in more games, a higher level of training and hopefully strive to be leaders in ANZA and other school teams that they may be involved in. There has been a pilot programme for rep teams in the past year and the feedback in general has been very positive. Now all that is needed is more volunteers to take it to the next stage and open it up across all the older age groups.
But we have to remember, all this does not happen without a huge amount of time given by many volunteers, and we still need more help. Specifically we are still looking for a treasurer, equipment coordinator, first aid coordinator and secretary. So if you have a couple of hours spare a week and you want to see ANZA Netball continue to grow and improve then we are waiting for your call!
This article was originally published in August 2013. Note: Since the time of publishing the number of girls playing Netball has increased to 442 as at January 2014.