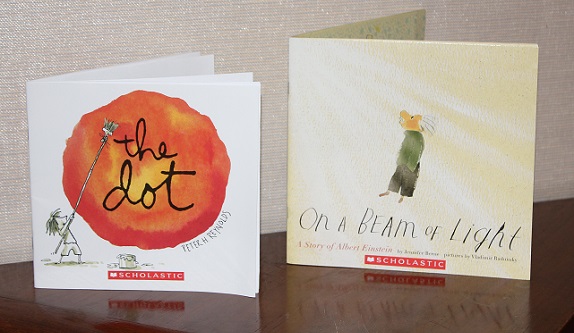 As a kid I spent hours over the tri-fold book club catalogue, choosing and changing and perfecting my selection. When my daughter brought the same catalogue home from kindergarten, I was thrilled to be sharing this part of my childhood with her. That is until I realised my daughter's logic was faulty; she thought the best books would be the pinkest. I wanted to choose something completely different to our other books and found a couple of gems that encourage wonder and creativity.
The Dot tells the story of a girl discovering her artistic ability with a gentle nudge from one of those wise teachers that all kids should encounter. It is masterfully written and gently conveys the message about challenging the belief that you can't do something, practising, mastering and then inspiring others. It inspires activity and we were instantly off in search of paints and paper to draw our own dots. I will be gifting this book to kids turning six this year.
On a Beam of Light tells the story of Albert Einstein and his ideas in a picture book format. The book highlights aspects of Albert's life that appeal to kids, like his delayed speech development, dislike of socks and his sailing boat, while introducing his theories and the value of an inquiring mind. If you have ever tried to explain gravity to a five year old, you will appreciate the eloquent way that huge concepts are introduced and explained. This book is reassuring for parents of late speakers and affirming for any child who asks too many questions and thinks a little differently. Great for an advanced picture book reader, this book inspires curiosity, wonder, learning and thought.
The Red Dot is by Peter H. Reynolds
On a Beam of Light by Jennifer Berne and pictures by Vladimir Radunsky