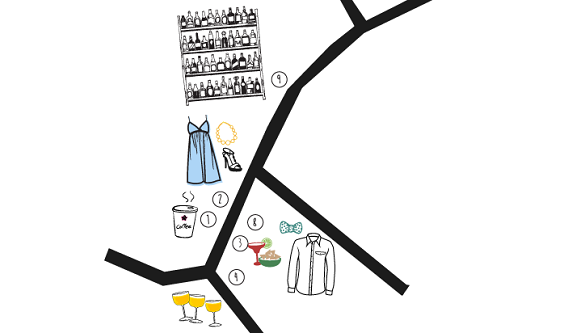 With a rich ambience of the old estate, Ann Siang Hill is a delightful enclave of conservation shop-houses filled with plenty of local bars, restaurants and boutiques. Founder of Travelshopa, Renée Lodens gives her top nine picks on a day out along Ann Siang Hill.
1 Shots Café
Address: 90 Club Street Singapore 069458
Contact: 6224 9259
Website: www.theshotscafe.com
Café by day, bar by night; Shots Café serves everything from delicious coffee to organic colas and for those who want to party, tequila. Its lively vibe makes it an ideal meeting point for gatherings and catch-ups with friends. They also have a selection of sandwiches, pies, cakes and more for the peckish lunch crowd.
2 Mythology
Address: 88 Club Street Singapore 069456
Contact: +65 6223 5570
Website: my-thology.com
A multi-label boutique stocked with a curated selection of chic independent labels from all over Asia, a shopping trip to MYthology never disappoints. Owner Apsara Oswal has a natural eye for talented emerging designers and a visit to MYthology always promises a surprise, as new designs are constantly brought in on a regular basis. 3 Pistola
Address: 93 Club Street Singapore 069461
Contact: 6438 2185
Website: www.facebook.com/pistolasingapore
This Asian-Mexican eatery serves mainly burritos, tacos, quesadillas and rice bowls with a local twist. Coriander, Kimchi and mango salsa add an Eastern flair to the classics, and are a nice little treat for fusion food lovers too. Finish your meal with an ice-cream cookie or a corn cup with coconut for dessert.
4 Oxwell & Co
Address: 5 Ann Siang Road Singapore 069688
Contact: +65 6438 3984
Website: oxwellandco.com
With the rustic ambience of an old shophouse, Oxwell & Co has a certain alfresco charm that keeps you coming back for more. While they serve cocktails and light snacks on Level 1, head up to Level 2 where the main restaurant is situated. As they have limited seating, be sure to make reservations beforehand especially if you are thinking of heading there during weekends.
5 Swagger
Address: 15 Ann Siang Road #01-01 Singapore 069695
Contact: +65 6223 5880
Website: swaggerstore.co
A hidden gem on the charming Ann Siang Hill, Swagger is definitely the go-to men's boutique that I would recommend to dress your man from head to toe. Offering custom-made apparel and handmade shoes that can be customised according to your personal preference, shopping will definitely excite them as much as women's boutiques exhilarate us.
6 Scoop
Address: 19 Ann Siang Road Singapore 069699
Contact: 6423 1213
Website: www.thescoop.com.sg
Modeled on the classic press clubs of the world, Scoop is Singapore's dedicated hangout for hacks and flacks, and also attracts crowds who enjoy dining in its journalism-themed ambience with drinks and bar grub. Enjoy a drink with some pizza, burgers or poutine.
7 PS Café
Address: 45 Ann Siang Road #02-02 Singapore 069719
Contact: +65 9797 0648
Website: www.pscafe.com
Tucked away at the very end of the street is PS Café, the ideal place to rest and relax after a long day of shopping. I always enjoy a nice afternoon tea and desserts here with a quick trip onto the roof for a glorious view of Chinatown and the CBD.
8 Aston Blake
Address: 89 Club Street Singapore 069457 (By appointment only)
Contact: +65 6337 3504
Website: www.astonblake.com
A savvy bespoke menswear label with a fierce eye for detail, Aston Blake is all about individualism. The local label also offers a myriad of extra services that adds a lovely touch of luxury. For instance, you will find made-to-measure services at no additional cost, as well as gift-wrapping and international delivery services, which makes sending a present to that special someone overseas all the more convenient.
9 Drinks & Co
Address: 44 Club Street Singapore 069421
Contact: 6222 2005
Website: www.drinksandco.asia
Drinks & Co. more than a your local bottle shop – though it does stock house spirits, and wines at the best price you'll find in the CBD. Swing by on your way to a BYO shindig, or stop off with a group of friends to wind down over a bottle and a few nibbles.