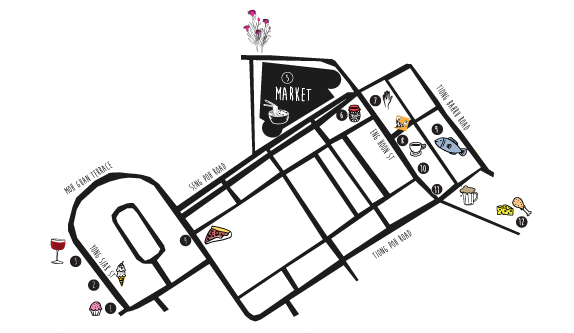 There's nothing that attracts expats like top-quality cafes and funky bars, and Tiong Bahru is teeming with them. Neighbourhood resident Innika Choo gives her favourite picks, as well as some hidden local gems.
1 Plain Vanilla
1D Yong Siak Street, Singapore 168641
plainvanillabakery.com
Tel 6465 5942
This store has a huge range of the best cupcakes in Singapore (in my opinion). Try the salted caramel – it's ridiculous.
2 Stranglets
7 Yong Siak Street, Singapore
6222 1456
strangelets.sg
Check out the Popaganda homemade icy-poles at this little trinket store across from 40 Hands. The banana chocolate flavour is really good, as is the strawberry orange.
3 Open Door Policy
19 Yong Siak St
Tel 6221 9307
odpsingapore.com
Also known as ODP, this bistro with a difference serves fantastic Halloumi. Try the swordfish shoulder, followed by the salted caramel crème brulee and accompanied by a glass of rose – it's all you need in life.
4 PS Cafe
78 Guan Chuan St
Tel 9226 7088
pscafe.com
You've probably already indulged here, but it's still worth a mention just for the pizza. Do try the green goddess if you haven't already – don't judge a pizza just because they put green peas on it! The Smokey Margherita is amazing, and the four cheese porcini is out of control – try it at least once.
5 Flowers
Tiong Bahru Food Market & Hawker Centre
30 Seng Poh Rd
As you're entering the market, the man on the left-hand side facing the middle gives you the best quality for money. The lady on the right will not budge on price and her flowers are never as good as the guy across from her.
6 Yes Natural Organic Store
58 Seng Poh Road, Singapore
yesnatural.biz
6227 3280
This place is considerably cheaper than Cold Storage. If you're into your chia seeds, non-GMO ingredients, sauces sans the MSG, frozen veggie dumplings, almond milk and interesting teas, then this place is worth a look.
7 Eng Hoon Massage
Block 57, Eng Hoon St
A one-hour massage here is $47, which is not the cheapest you'll find, but it's clean and there's almost always availability
8 Eng Hoon Sticker Shop
Yes, there is a sticker shop on Eng Hoon. I have had stickers made twice now for parties and they were a huge success. Everyone loves a sticker!
9 Sin Hoi Seafood
Block 55, Tiong Bahru Road #01-59
Tel 6223 0810
sinhoisai.com
Get the pepper crab – don't hold back! Also, the cereal prawns are out of control, but insist they have no shell.
10 Tiong Bahru Bakery
Their soy hot chocolate is a delicious nightcap, and, dangerously, I live almost next door.
56 Eng Hoon St
Tel 6224 3430
tiongbahrubakery.com
11 Two Face Pizza & Taproom
56 Eng Hoon St
Tel 6536 0024
twoface.sg
There are plenty of drinks that aren't so typical – get the Elderflower cider, and even the ginger Magners (although the Magners sells out quickly).
12 Foodie Market Place
Not bad for cheese platters and cooking bits and pieces, they also do a fair amount of Aussie and Kiwi meats. I actually bought a yoghurt maker from here and it is great, I would definitely recommend making your own yoghurt at home. The frozen berries are also good value for money.
225 Outram Rd
Tel 6224 3290