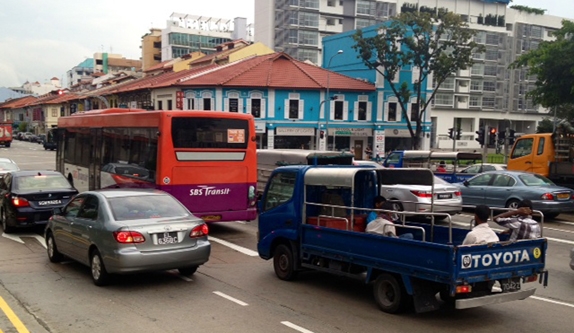 1. Petrol station attendants who fill your car up with petrol.
2.
Ambulances stop at red lights with their lights flashing and siren wailing.
3.
The floor numbering system starts at "1″. There is no ground floor.
4.
Using blinkers/indicators appears to be optional, as does sticking to the one lane on the road. Feel like straddling both lanes? No problem!
5.
Men riding unrestrained in the back of open trucks on their way to work.
6.
Beef mince at the supermarket costing $3.50 per 100g ( that is $35 per kilo ).
7.
The smell of durian. It is pungent but is very much a part of Singapore.
8.
Fast internet speeds with no download/upload limit! You pay for line speed not data allowance.
9.
Low crime levels and feeling very safe on the streets at night.
10.
Monsoon rain and thunder storms arriving out of nowhere.
11.
Sweating 350 days of the year.
12.
Being able to "pop overseas" for the day.
13.
Travelling to pretty much any part of the island by public transport.
14.
Very few places to buy clothes if you are bigger than a size 12.
15.
Filling out forms asking for 'race'. Most expats would fall into the category of "other".
16.
Arriving at Changi airport, passing through the Passport Control, picking up bags and being out of the airport within 30 minutes.
17.
To have air-con running the majority of the time.
18.
Buying movie tickets or ordering a pizza on-line and being asked for your FIN number (that is your National ID number).
19.
Ordering a taxi and receiving electronic confirmation that it will arrive within 5 – 7 minutes – and it does!
20.
The efficiency of the public transport system (buses and trains).
10 things about Singapore that will always seem "unusual":
1.
Child car restraints fitted to the front passenger seat.
2.
Children not wearing any restraints in cars at all.
3.
Government owned media. Print, radio and television are all government owned.
4.
Cheezels & Milo being made in Malaysia.
5.
Bread being enriched with sugar.
6.
Seeing construction workers having to shower themselves outside of construction sites.
7.
Always being asked on the phone for the details of the "Employment Pass (EP) Holder". In the case of the 'trailing spouse' it is the EP holder who holds the power.
8.
Capital punishment, including 'lashings' for serious crimes (now you understand the low crime).
9.
Maids not allowed to swim in the pools at condominiums, yet have to watch over the children swimming in the pool.
10.
Supermarkets running out of an item for months at a time.
Many items listed above were originally published on the blog of Kelly Jackson-Nash and was modified for the ANZA Guide to Singapore.
Kelly Jackson-Nash is an Australian expat living in Singapore with her husband and two daughters. Kelly and her family moved to Singapore in 2011.