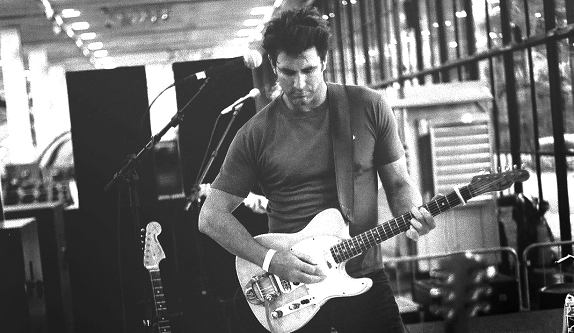 The Wave House with its tropical vibe on sandy Sentosa beach was the perfect venue for the sounds of Pete Murray. Openers the Sam Willows, a local indie quartet comprising of siblings Narelle Kheng and Benjamin Kheng together with their friends Sandra Riley Tang and Jonathan Chuaas got the night off to a good start with a strong performance.
At intermission a band of well-built local sufers blew in impressively, ripping up the waves to entertain the crowd & take advantage of the wave machine situated dynamically and directly behind the stage.
Pete Murray thrilled his fans and won over some new ones over the nearly two hours he spent on stage. Highlights included his signature songs So Beautiful, Better Days, Opportunity, Always a Winner, & Free.
Throughout the evening he bantered & engaged with the audience, fleshing out the backgrounds of various songs. He explained he wrote Ten Ft Tall in memory of a friends' wife who died tragically young. Beautiful was written after his encounter with some very pretentious people at a party in Brisbane. He also made a point of urging the audience to avoid having regrets in life before playing Opportunity.
To the already roused crowd's great amusement towards the end of the concert, a group of thrilled fans were invited on stage by Murray to compete in a dance off. Needless to say the crowd delighted in an encore and Pete Murray and his band seemed to genuinely enjoy entertaining the crowd here in Singapore.
From all accounts we came away ALL feeling like winners!
This article was written by an ANZA member who won tickets to the concert on Saturday 17 May 2014 in the ANZA Pete Murray giveaway.