For the children at Riverkids in Cambodia, a letter can make a bigger difference than you think, says Dale Edmonds.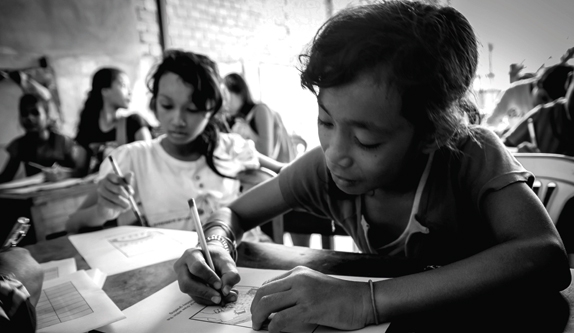 The letters come in one by one, until there are enough to fill a courier packet to Cambodia, each one with a name and a number carefully written in the corner to make sure they'll get where they're needed, translated and hand-delivered to children who don't have mailboxes or sometimes even homes, children who have never received a letter in their lives until now.
These are the first letters from new mentors: people who are giving a little time and love each month to write to a child they've been matched with at Riverkids.
Seeing how much a child concentrates on her letter back to her mentor tells us that every word means a lot to her. For children who are struggling at school and home, our tender words of encouragement will help them go very far in their education journey and succeed in life.
We now have 140 children waiting for a mentor to be matched. Can you be a mentor for one of them?
WILL A SIMPLE LETTER REALLY MAKE A DIFFERENCE?
Yes. Our kids keep every letter, read them over and over and are eager to write back. For almost all of them, this is the first piece of mail they've ever received. Knowing someone in another country cared about them enough to write a letter and, most of all, that that person wants to know about them is a big deal to our kids, who are used to being ignored by the world.
DON'T YOU HAVE TO BE SUPER PERFECT TO BE A MENTOR?
Nope. You just have to be kind. You don't have to be a brilliant writer, or know lots about Cambodia or even children. You'll just need a working pen and a coffee break to write a letter once a month. We'll send reminders and keep track of letters so you don't even have to be organised! Just write with kindness.

IS IT LIKE SPONSORING A CHILD?
Close, but with a twist. Because our kids all come from families struggling with really difficult problems, we think very carefully about how we match you to a child. Shared interests like football, a child's dreams of becoming a nurse, being the youngest in the family – we look for shared elements to build a friendship on. For the child receiving your letter, you're special because you've been chosen just for them.
The $55/month mentorship fee does help a lot, but it doesn't go directly to your child so that children who don't have mentors get the same help and support too.

HOW DO I GET STARTED?
Email dale@riverkidsproject.org and we'll get you sorted out. There's a short form to fill out and we'll call you to go over some questions about what your interests are, so we can figure out which child would be the best match to you. Then we'll send you a welcome pack with their first letter and everything you need to get started.
CAN CHILDREN TAKE PART TOO?
Absolutely! We love matching families – the letters are a wonderful experience to share with children.
We prefer not to do direct age matches, but look for shared interests like football or reading, so the children have lots to share.
WHAT IF THEY WRITE ABOUT SOMETHING SCARY OR SENSITIVE AND I DON'T KNOW WHAT TO DO?
That's exactly why we need mentors like you so our children have a safe place to ask for help.
All the letters are read by us to look out for worrying problems like this. We'll help the child first, then update you with advice on helpful things to say in your next letter.
Often, what they need is simply to be heard: 'You miss your mum a lot. I'm thinking of you, and I hope she comes home soon too.'
So get in touch, and see what you can do with just a pen and paper to help a child, and how much it will mean to you.
riverkidsproject.org
dale@riverkidsproject.org