Combining both elements of wonderfully fresh Vietnamese food and overwhelming traffic, a foodie motorbike tour of the city is a great way of exploring Ho Chi Min City, formerly known as Saigon. Kathy Chamberlain and her party of five paired up with a friendly vibrant all girl group of twenty something year old guides to join the throng of Saigon motorbike traffic.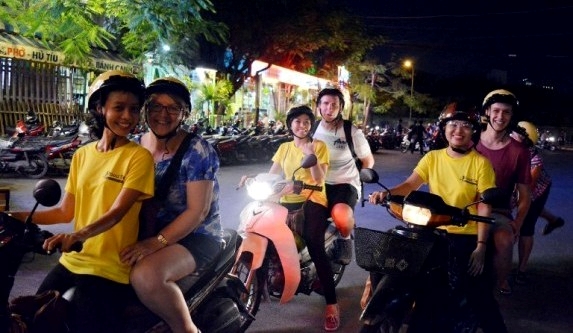 Surprisingly the evening turned out to be a highlight of our Vietnam trip. We used 'Saigon Food Tour' a tour company which has a uniform of bright yellow shirts and helmets and for our tour the guides just happened to be all female. Using their own bikes the pack was an assortment of 100CC motorbikes and step throughs and on friendly introduction we were handed our own pillion yellow helmet . I must admit (sorry guys) that for me, the girl power element removed a certain sense of risk taking associated with the situation.
With motorcycles and scooters the most prevalent means of transport in Vietnam, accounting for 95 per cent of registered vehicles, motorbike traffic is overwhelming. For a tourist pedestrian just crossing the road can be a death defying feat. As a Vietnamese motorbike rider amongst the traffic (surgical) face masks are the norm to protect against breathing difficulties from fumes and sun exposure. In this instance my guide Lee left her mask at home so she could give a commentary and make conversation whilst skillfully negotiating the 'no road rules in crazy peak hour crush' traffic environment.
With the 50 kmph speed limit, the peak hour mass generally traverses the city at 30-40 kmph but in the organised chaos there are no road rules except keeping to the right. If as a driver you feel a need to cut several metres off a corner into the oncoming erratic flux or mount the footpath in order to find a quicker route then so be it. Despite a couple of breathtaking moments we all felt that we were in good hands and found it to be an exhilarating experience.
The girls took us past the major city landmarks such as the Independence Palace, HCM City Hall and Post Office, Ben Thanh market, Notre Dame Cathedral and through the cross city tunnel which runs underneath the Saigon River. We made 2 foodie stops nominated beforehand with payment of the tour, the first of which was a café where we assembled our own delicious Vietnamese pancakes. Seated at a long table with our friendly guides interspersed among us, we were given an explanation of the various herbs featured in our dish and our questions regarding Vietnamese everyday life were answered.
Second stop was the BBQ cafe where various protein forms, one of which was 'goat breast' (goat udder) were 'barbequed' by our guides on a ceramic roof tile on our table. We also sampled a lovely lemongrass cocktail and an assortment of 'sweet soups' (dessert).
For the US$50pp spent we were well satisfied with the tour which lasted about four hours. It gave us an opportunity to connect with English speaking local people, was culturally enlightening and very entertaining.