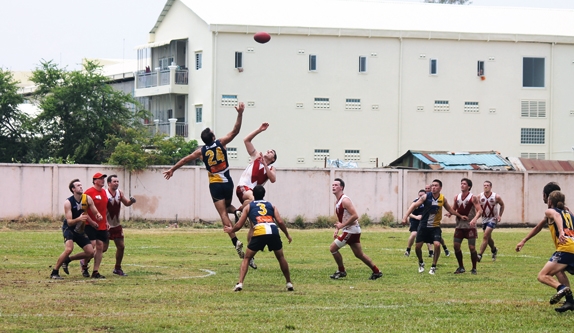 Looking for somewhere to play footy? Look no further than the ANZA Wombats, who have already had a jam-packed year, says Guy Keating.
Well it's now September and, as usual, we have had a busy year.
After a successful season launch in April at The Roundhouse we followed up with a variety of social events, which have been well received.
The Family Night at Mambo's on Sentosa was a well attended event, with many of the players and their families coming along, helped by the bus transport arranged to get everyone back on the mainland.
Looking ahead on the social front, we have the AGM on November 8 and the Royal Wombat Ball on 22 November. If you'd like to keep up-to-date with details, stay in touch by emailing
info@singaporewombats.com to be added to the mailing list.
On the footy front, for those who don't know, we now have an ex-AFL player, Ed Clarke coaching the team. Fear not, though – he trains us with a focus on fun, and getting the most out of our time in Singapore. Training is an opportunity to develop skills, lose weight, and increase fitness. There are plenty of quality Sherrins, and good times each Thursday and Saturday. Training is located at NUS Evans Road, Farrer Park, and Turf City. If you can't make Saturdays at Turf City, then you have the option of Thursdays at NUS Evans Road. Farrer Park has a great pitch and we train there instead of Turf City sometimes during the year.
So far this year we've had some quality tours: Cambodia, Manila, Jakarta, and Bali for the 9s tournament. This month we tour to Malaysia, and also host them, as well as hosting Jakarta before getting ready for attending the AFL Grand Final in the famous last week of September. In between all the touring we have also had some great games against the Navy and the local Sharks squad.
Speaking of the Sharks, we hosted the Audo Cup at Turf City on 2 August, which was held in honour of the late Nick Auden, who played for both the Sharks and Wombats. He lost his battle with cancer late last year and he means a lot to both clubs. We plan to honour him with regular Sharks v Wombats games and social gatherings in the years to come.
For the training and games schedules please sign up to teamsnap.com. Once you have signed up, add yourself to the Wombats group at the following link: singaporewombats.teamsnap.com.
We are always looking for new members, with or without AFL experience. The club is about providing a diversion for the daily grind of work, and if you have been in Singapore for awhile and haven't yet come down, think about joining in the fun.
In October the annual Asian Football Championships are taking place in Clark, Manila, on the 11th. If you want to get involved, email info@singaporewombats.com for more information.
www.singaporewombats.com