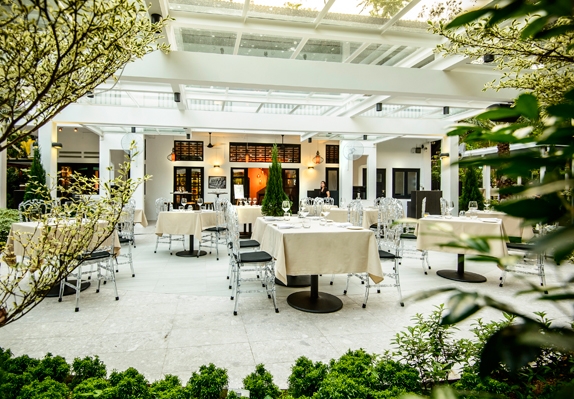 BUONA VISTA: Launched in April this year, UNA attracts with its beautifully landscaped setting in the Rochester Park area, near Holland Village.
Seated outdoors beside green leafy plants and white trellises, with soothing sounds from a water-feature, the main black-and-white bungalow provides a stately backdrop.
Whether you fancy Spanish, Italian or French cuisine, your taste buds will surely be delighted by the cooking of Chef Jean-Philippe Patruno, whose multi-cultural heritage embraces all three.
The menu is easy to navigate, listing regions the food represents, as well as offering plates 'small' and 'large'. During a recent dinner, my companion and I shared dishes, thereby allowing us to further indulge our palates.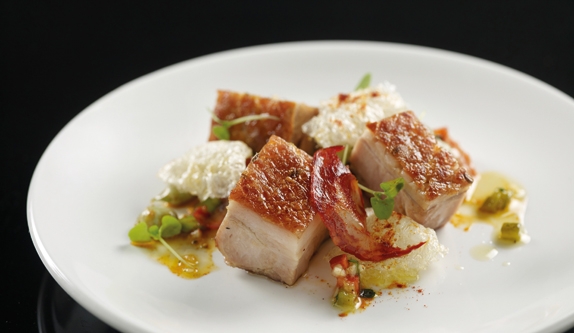 An appetiser, from Provence, France, of slow-cooked Galician octopus enhanced by sweet tomato fondue ($21), set the mood. Honestly, this is the most tender octopus I have ever eaten.
For mains, we shared braised monkfish tail accompanied by stuffed courgette flower, drizzled with lobster jus ($33), plus a plate of slow-cooked ibérico pork belly paired with smoked chorizo mash. The crisp pork skin testifies to the chef's mastery.
Our favourite dessert, from Spanish Catalunya, was bitter chocolate married with hints of olive oil and a touch of rosemary soil ($16), which calls out to aficionados of wonderfully bitter tastes.
The wine list also highlights the restaurant's signature cocktails, including UNA Cobbler (sherry, Chinese floral tonic, fresh lemon juice) which worked for me!
Launched in August at UNA with much aplomb is Asia's first Tio Pepe sherry bar. The selection of fine sherries includes Tio Pepe fino and Vina AB with its dark golden colour, both of which may be savoured with tasty Spanish tapas like iberico jamon croquettas, a variety of pimentos and cheese platters, among others.
Finish on a lusciously high note with Pedro Ximenez sherry, velvety smooth and sweet, and indulge in Pedro Ximenez panna cotta topped with crushed popcorn, from Provence, which leaves a long and lingering finish to a satisfyingly delicious dinner.
UNA at One Rochester
1 Rochester Park
Tel 6773 0070
Born in Adelaide, Raelene Tan is an etiquette consultant and food & travel writer. She has authored four books and has been a regular guest on radio and television.
View our listings for Bars, Restaurants and Cafes in Buona Vista