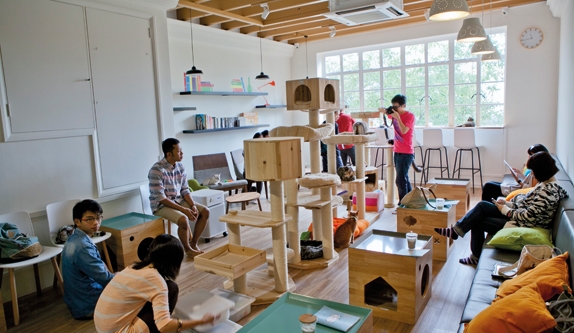 BOAT QUAY: Cats. To some, they're haughty, indifferent pets who couldn't care less that you feed them and put a roof over their heads. To others, they're furry little balls of joy that make the world a better, brighter place.
If you're in the latter group, I suggest you head down to Boat Quay and experience the latest North Asian craze which has arrived at Singapore's shores – the cat café. Starting in Taiwan and quickly spreading to Japan and Korea, cat cafes are places for cat lovers to surround themselves with their feline friends while sipping coffee and catching up with their human counterparts.
Neko no Niwa (Cat Garden in Japanese) is Singapore's first cat café, which opened late last year in Boat Quay, next door to the Prince of Wales pub. Head upstairs and you'll find a fairly large, well-lit space, with 13 cats are in their own room, separated from the counter by a sliding glass door.
There's jazz tinkling lightly through the speakers, and the dozen or so people in the room speak in hushed tones as the cats stalk through a play area with scratching posts, ramps, climbing posts, and hidey holes.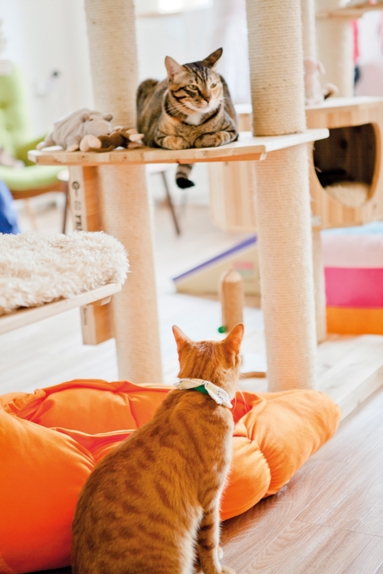 The coffee is cheap at $3.50 for a large latte, or $2.50 for a small. It's some of the cheapest coffee of its kind in Singapore, but not up to the same standards as anywhere in Melbourne or Auckland.
The food is limited – desserts, cakes and ice cream are the main menu items – but buying food and drink is optional. Visitors pay $12 for an hour with the cats and $5 for every additional half hour.
There's high demand to see and play with the cats – co-owner Sue Lynn Tan says they're booked up to a month in advance for the weekend sessions.
All cats are former strays or abandoned pets, and Sue Lynn says the café lets potential cat owners find out if they're ready to own a cat.
Inspired by other similar cafes in Japan and Korea, Sue Lynn quit her corporate job to open the café. She's had a great response so far.
'It's fantastic. I didn't expect the response to be so overwhelming. I'm glad there are so many cat lovers out there.'
Neko no Niwa
54A Boat Quay (Level 2)
Tel 6536 5319
View our listings for Bars, Restaurants and Cafes in Boat Quay