ANZA Athletics is back and better than ever with a great start to the 2014/15 season, says Carole Smith.We're very pleased to be back in full swing for the 2014/15 season of ANZA Athletics, having started at the end of August.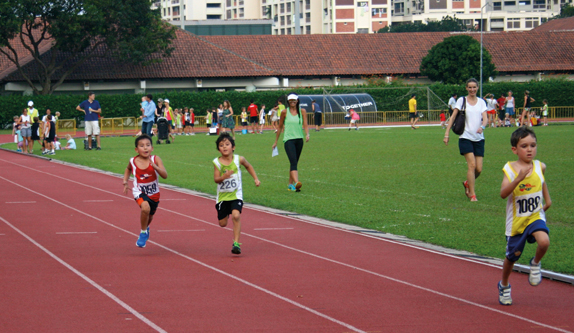 With 180 children registered so far, the committee is pleased with the turnout, given the forced early termination of the 2013/14 season. The children are already loving their Friday nights, with one boy commenting, 'out of rugby, soccer and athletics, I love athletics the most!' Go Athletics!
Whether the kids are Road Runners or Homer Simpsons in terms of their athletic prowess, the 'personal best' (PB) system, in which children receive a yellow PB sticker every time they beat their previous best result, provides an incentive for everyone to get out there and try their hardest. The children are trying so hard, in fact, that well over 2000 PBs have been achieved so far.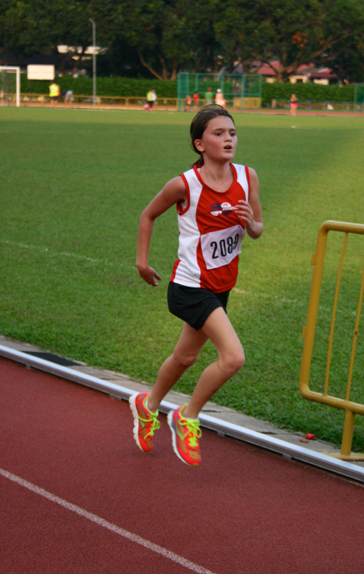 With 12 dedicated coaches on board, children are coached through their events, and are shown the correct techniques to use from High Jump lift-offs to hurdles foot placement.
Perhaps the best thing about ANZA Athletics is the sportsmanship that is brought out in the children, as they rally to encourage the slower runners to the finish line. This has been commented on particularly in relation to the Under-11 boys, who have been seen more than once running alongside one of their group encouraging him to finish the race. As parents, it's wonderful to be part of such an environment.
The Committee is always seeking parental feedback, and none makes us happier than a new parent's comment that 'the format and organisation is exceptional.' The Committee wishes to give all of the parents a huge pat on the back for all of their efforts every Friday night. The mantra of many sports is that it wouldn't happen without the parents, but in the case of ANZA Athletics, it really is true. We are heavily dependent on parental involvement, and we are very rarely let down. In fact, we delight in how parents seem to take ownership of their particular task, and undertake it with a sense of pride.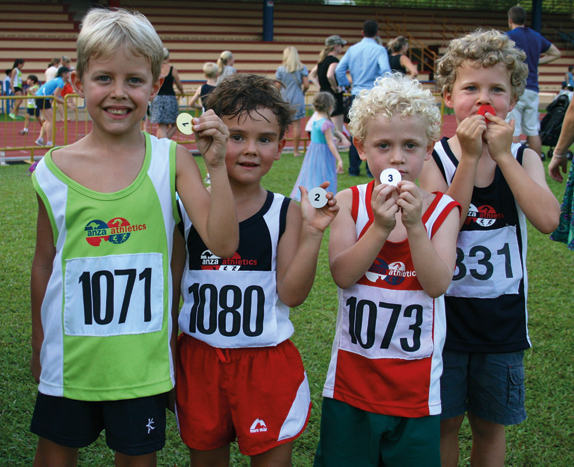 The confidence which comes from participating in Athletics does have positive knock-on effects elsewhere. For example, one of the committee member's sons has improved noticeably in rugby due to his running skills. Other children may realise that, given the opportunity, they are actually quite good at certain events, and set their sights on achieving an age-group record, or winning a trophy at the end of the season for a top three placing. All athletes (as ANZA Athletics children may proudly call themselves) who attend regularly collect medals and certificates at the end of season – yet another reason to take part.
And if parents are still left wondering whether it is worth their time and effort on a Friday night… well, at least they can be guaranteed tired (and hopefully happy!) children ready for bed on their arrival home.
There is still room in nearly all age groups for more eager participants. Come and join us!
Find out more on the Athletics page or register now at the half season price of $140.