Only three weeks after moving to Singapore, ANZA Cycling newbie John Cross enjoyed a recent day trip to Desaru.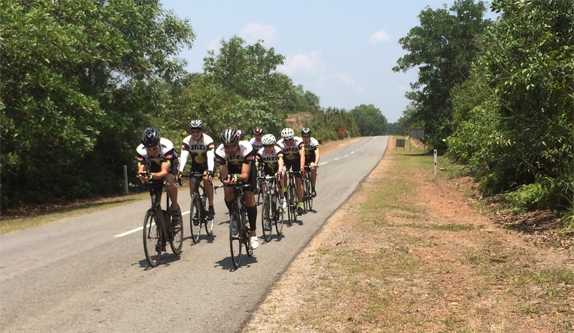 It was pretty much a last-minute decision for me to join the ANZA Cycling ride to Desaru. As a newbie to Singapore, with only three weeks under my belt, I really had no idea what to expect.
We were to meet at 6.15am at Changi Point Ferry Terminal, so I googled the place, mapped the route in Strava and set the alarm for 4.45am. Even though I seemed to get caught at every set of traffic lights on the way to the ferry from Lorong Chuan, it was still an easy ride of around 35–40 minutes, so all good so far.
Once at the ferry terminal, I found myself in a group of around 20 cyclists, with everyone carefully stacking their bikes in the designated waiting area, some intent on tracking down a last-minute cup of coffee, others slathering on their sunscreen and all gathered and ready to hand over their passports just before 6.15am.
We took a few quick photos, cleared immigration and boarded the two boats that were to ferry us across to Malaysia.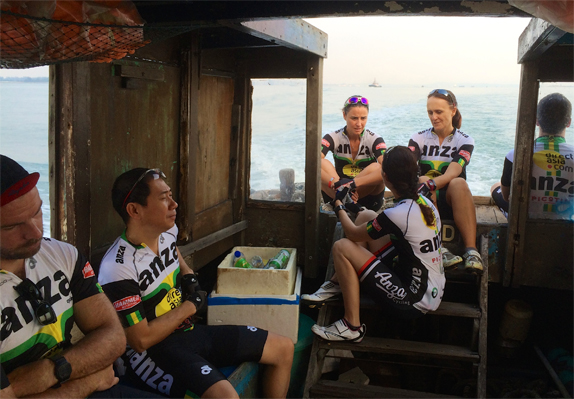 The boat ride was pretty smooth, the little 'bumboat' weaving in and around all the land reclamation/dredging mountains of gravel to arrive at Tanjong Pengelih around 45 minutes later. We were then straight off the boat, with the bikes unloaded and through immigration in only a few minutes.
Once all assembled there was a team photo, with me being the odd one out, as I had not taken delivery of my ANZA kit yet.
The roads in Malaysia were pretty much traffic-free (it was nice to get in 100km without a single traffic light) but you had to keep your wits about you for the occasional fairly sizeable pothole. (This is one regular feature of riding in the UK that I do not miss.)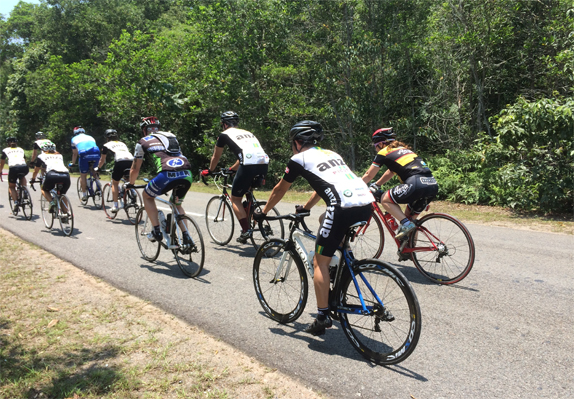 It was a nice 30kph average ride to Desaru, where we stopped for lunch and water refills. After the food stop we reassembled and headed back the same way we'd come. I'm pretty sure we had a bit of a tailwind on the way back and it felt an easier effort.
It had really started getting a bit warm and the heat coming off the road, combined perhaps with the early start, began to take a toll on a few people in the bunch, with pulls on the front becoming shorter and shorter. My Garmin ultimately showed a peak temperature of 39 degrees. For a UK resident that's unheard of – we get excited and sit on the beach at 19 degrees!
We arrived back in plenty of time for cold drinks before boarding the bumboat. We all enjoyed the breeze coming off the water on the way back and once through immigration again in Singapore we disbanded to make our respective journeys home – for me this meant another 35-minute ride to make a total of around 150km cycling for the day.
All in all, a hassle-free day (well organised by Neridah and Megan) and I'll certainly be putting my name down for more!
Find out more about at getting involved at the ANZA Cycling page.