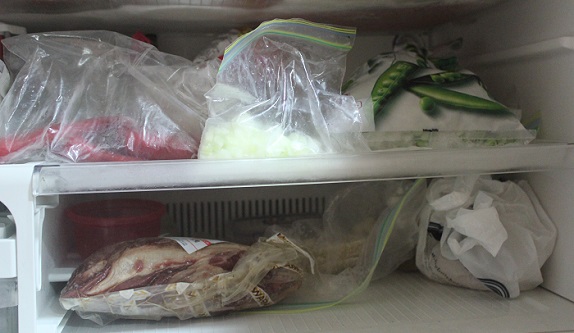 Keeping a freezer stocked with staples and extra items takes thought and effort but means you have a mini frozen pantry so you're prepared for anything and generally you're eating well.
Meat
Wrap portions separately in a double layer of plastic wrap.
Bread
Foil wrapped bread sticks are great to pull out and heat. Slice full loaves before freezing and store in freezer bags.
Fruit
Ripe bananas can be peeled, cut into pieces and frozen ready for a deliciously cold thick smoothy (no ice-cream needed). Strawberries, rasberries, blueberries and cherries which feature cheaply in the supermarkets at certain times of the year can be frozen and ready to use in desserts.
Dairy
Blocks of butter, margarine and cheese can be frozen and portions of grated cheese, divided into freezer bags and frozen flat, can be used straight from the freezer.
Vegies
To freeze peas, beans, asparagus and broccoli, blanche by using the following method.
In a large pan of water, boil a handful of vegetables at a time for 30 secs. This will stop them going brown when frozen. Using a slotted spoon, scoop them out into a bowl of heavily iced water. Once chilled, drain the vegetable and scatter onto a tray lined with kitchen paper. Freeze on the tray then transfer to a freezer bag. Cook the vegetables from frozen in a large pan of boiling water. Do not steam, as they tend to go soggy.
Peas
Of course most people buy peas already frozen in a packet but just a reminder that they make a great kids snack just as they are.
Raw Pastry
Raw pastry such as cookie dough can be frozen in smaller portions and is then ready to bake after thawing in the fridge.
Bacon
Bacon can be chopped into bits, then frozen on a tray. The thin layer can be then broken up and frozen in portions in freezer bags.

Cooked Rice
For rice, put 2 cups of cooked rice into a strong freezer bag. Expel the extra air and flatten the bag for easy stacking. When reusing put a tablespoon of water along with the contents of the bag into a microwave-safe bowl, cover it with a plate, and microwave it for about 30 seconds.
Special Note
Freeze food in small portions to avoid wastage and if possible label and date packages. Do not refreeze frozen food. Package food well to avoid 'freezer burn'.