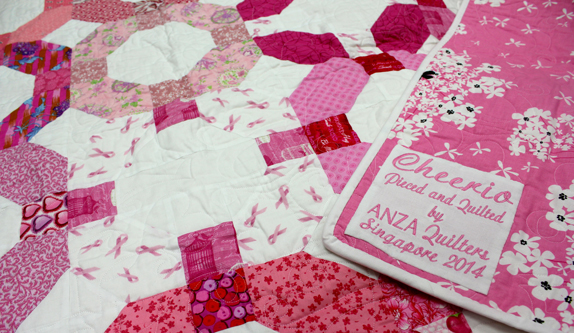 Regardless of nationality, something all quilters love to do is get together for a chat, some stitching and to learn some new skills from each other.
In recent years our membership has fluctuated and although numbers have diminished, the enthusiasm for a joint project has not.
Most of us have been touched by cancer in some way, whether it's a friend, colleague or family member and just like the crafty groups we've belonged to in our home countries, the ladies of ANZA Quilters pooled resources and knowledge to make a quilt for a breast cancer charity.
Once we decided on a design, fabric stashes were raided and sewing machines hauled to the Hollandse Club, where we had a couple of fun days cutting and sewing. Once the top was put together, it was quilted by one of our members on her specialist quilting machine. Some of the fabric features the pink ribbon, as does the quilt stitching.
The finished quilt was presented to the Breast Cancer Foundation Singapore, who were thrilled to receive it for their fundraising efforts.
Our next project will be a quilt for Australia's Biggest Morning Tea charity.
We always welcome new members to join us.
Find out more about the ANZA Quilters group.