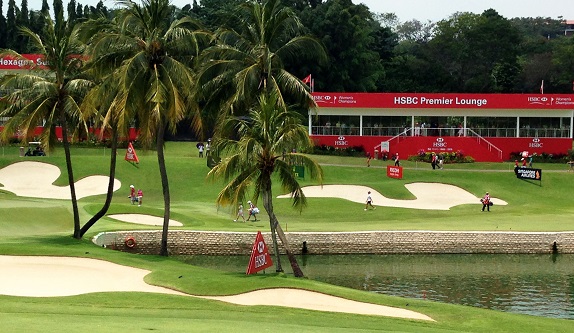 Take a bow, Inbee Park so Singapore can heartily congratulate you on winning the much-coveted golf title of "HSBC Women's Champions winner", unofficially known as "Asia's major". Hailing from South Korea, (World No.2) Inbee's stellar performance over four consecutive days distinguished her from her closest competitors, Lydia Ko (No.1) and Stacey Lewis (No.3). Inbee's demeanor of calmness, focus, confidence and consistency also led to her achieving an extraordinary feat of playing all four golf rounds bogey-free (playing each hole according to its par or better) – the first time such a feat has been recorded in professional women's golf.
The HSBC Women's Champions Event 5th – 8th March 2015 brought together most of the world's top female golfers in a field of 63 players. Held in Singapore for the past eight years now, HSBC has partnered with Sentosa Golf Club for the past three years, hosting the event at the magnificent Serapong Golf Course. Exceptional course conditions and overall event management served to ensure the tournament remained a strong favourite with the competitors themselves.
Watching professional golf in person is a genuinely profound experience. Spectators greedily witness the intimacy between players and their caddies. Crowds of people stand in collective awe and hallowed silence, willing the players to perform yet another spectacular golf shot. Spectators see first-hand how these professional athletes conduct themselves in the public eye, while handling the pressure of their competitive environment.
Funnily enough, while the world places a higher monetary value on professional male golf, many spectators find watching female competitors more enjoyable for a number of reasons. Female golfers bring an element of glamour to the sport, presenting a diverse mix of physiques, making it easier for all spectators to relate to them. They tend to swing the golf club somewhat slower than their male counterparts, which is fascinating to see given the significant distance they still hit the ball. So spectators benefit from seeing what is physically possible through applying correct technique as opposed to sheer brute strength. Despite incredible mental discipline and concentration as they prepare for each shot (their pre-shot routine) many of the golfers appear quite relaxed in between shot-making, enjoying some group camaraderie.
Following a golf tournament over any or all of the four days is revealing. Sometimes players will shine, other times struggle. Seeing this unfold is a privilege not granted to many spectators of professional sports. So if you have the chance to attend next year's HSBC Women's Champions golf tournament, wear comfortable walking shoes and you won't be disappointed!
Catherine Flanagan is an ANZA Member and new contributor to the ANZA Guide to Singapore.