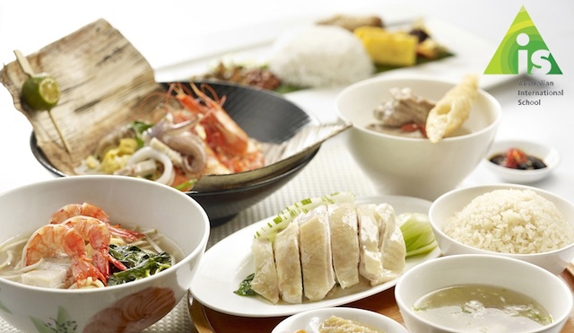 In our busy and fast-paced lives, dining out has become a way of life. Fortunately, eating out in Singapore is both convenient and affordable with the country's numerous hawker centres and food courts. Dining at these eateries may not always be the healthiest choice as food cooked outside is often high in sodium, cholesterol and saturated fats. How, then, can we enjoy local Singaporean dishes while maintaining a healthy and balanced diet?
As part of the Australian International School's (AIS) launch of its new Athlete Development Program (ADP), registered dietitian Katie Lambert was invited to the school to run a seminar with AIS parents and students on nutritious eating. The first of its kind at an international school in Singapore, AIS' ADP aims to promote sporting excellence at all levels. Following the Long-Term Athlete Development Model (popularised by Balyi and Hamilton 2004), engaging students with Sports Science theory on nutrition forms a key component of this unique program.
Katie advised that the best way to enjoy a wide variety of wholesome foods throughout the day is to plan ahead.
"When eating outside, it can be difficult to choose healthier meals, snacks and drinks. This becomes even more challenging when you're away from home as you are unfamiliar with the food," Katie said. "It is best to think about what food and drink might be available before you leave the house or office and plan what you will have." Katie advises using the Australian Guide to Healthy Eating as a benchmark for a balanced and wholesome diet.
When dining out in Singapore, consider the following:
Avoid food items that are deep fried and covered with lots of gravy or curry as gravies can be high in fat content. Opt for items that are stir-fried with soya sauce or oyster sauce. Choose dishes where you can select more vegetables, such as yong tau foo (a Chinese soup dish consisting of fresh vegetables and tofu), chicken and duck rice or economy mixed rice.
Examples of a healthy economy mixed rice meal include:
Skinless steamed chicken + stir-fried green beans + stir-fried cauliflower and carrots
Steamed tofu + Shanghai greens in oyster sauce + stir-fried Chinese cabbage
When having noodles, opt for clear soup with sliced chicken or fish over curry noodles with fried fish, minced meat and coconut milk.
Examples of healthy noodle dishes include:
Ban mian

(handmade noodle soup) with sliced chicken
Soup wanton noodles or dry wanton noodles with no added oil
Sliced fish noodles
Seafood soup with noodles
Most hawker centres have an herbal soup stall offering a variety of healthy Chinese soups. Ask for brown rice as an add-on to make it a complete meal.
Examples include:
Chicken soup with Chinese herbs
Watercress and pork soup
Lotus root soup with peanuts, carrots and dates
Wintermelon soup
Tofu, tomato and egg drop soup
For small bites, choose beancurd with no or less syrup, and steamed items from the dim sum store. Avoid sugary pastries and Chinese deep-fried donuts.
Examples of healthy snacks include:
Har gao (steamed shrimp dumpling)
Ma lai gao (steamed Malay sponge cake)
Siew mai (steamed pork dumplings) If buying coffee or tea, ask for less or no sugar and no condensed milk.
In addition, Singapore's Health Promotion Board (HPB) launched a "Healthier Dining Programme" campaign last year to promote healthy eating at popular local restaurants and food courts, whereby participating eateries are given "Healthier" logos to be displayed prominently on any menu items cooked in healthier oil, is higher in whole grains and lower in calories. Similarly, to ensure that AIS students make healthy food choices when dining at school, AIS uses a Traffic Light system whereby all menu items are labeled green, amber or red to indicate foods that can be eaten often, sometimes or only occasionally. AIS continually introduces initiatives to encourage its students to make nutrition decisions that will ensure they develop into informed and healthy individuals.
To find out more, or to book a place at AIS's next open house on 15 April. Visit the AIS website or call +65 6653 2956
Australian International School Pte Ltd is registered by the Council for Private Education. CPE Registration Number 199204405H. Period of Registration 6 July 11 to 5 July 2015
For further reading on this topic, please see:
Lim, Siew Choo."Healthier Picks at the Food Court".Health Xchange. Web. 26 Feb. 2015.
"Survive the Hawker Paradise".Health Promotion Board. 4 Apr. 2014. Web. 26 Feb. 2015.