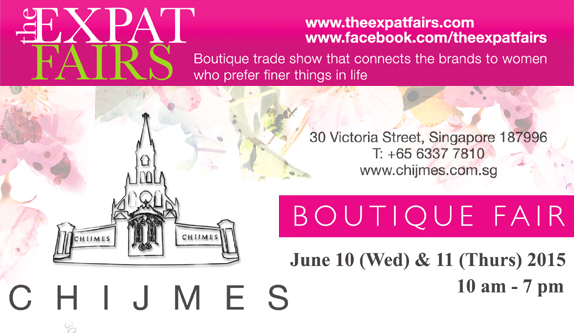 Celebrate Singapore's eternal summer this Wednesday and Thursday the 10th and 11th of June – get out of the house to enjoy the sunshine…and make sure you find a place where you can duck into for shopping, dining and air-conditioning. The middle of the year is always a time for reflection and renewal, which means it may be time to spruce up your wardrobe, home decor, and relax with new culinary experiences to power you through the rest of 2015.
Summer is also a time of renewal for one of Singapore's most elegant landmarks – CHIJMES. The former chapel had been undergoing construction for much of last year and will be all spruced up for the CHIJMES Boutique Fair from the 10th to 11th of June. Here are 5 reasons why you should come by CHIJMES for a summer jaunt.
1. Now that its facelift is complete, CHIJMES is worth a revisit! It is a national monument, and its distinct architecture that makes it one of the most beautiful buildings in downtown Singapore. Come see the new refurbishment for yourself and explore the history of the convent with friends and family. Look out for the little door where the less fortunate left their babies to be taken care of by the Sisters of the convent – it's a humbling piece of CHIJMES history.
2. Have a great day out by shaking up your schedule at CHIJMES instead of regular haunts at Orchard Road. The list of tenants at the complex are revamped as well, and with the on-going fair, you'll be able to do some shopping before moving on to evaluate all your chic F&B options for lunch and dinner. It's a great way to spend a day – or two, if you're not done reviewing all your options for a shopping spree and eating out!
3. There're loads of unique products on display at the CHIJMES Boutique Fair! See all sorts of goodies like fashion, homewares, furnishing and jewellery from both local and international brands that are extraordinary – no rehashes from shopping mall stores. It's an exciting shopping experience with a buzzing marketplace atmosphere, suited perfectly to the feel of new CHIJMES. Many of the businesses are small local boutiques, so it's worth supporting too.
4. CHIJMES is easily accessible, right at the heart of town! Taking a car or a cab to CHIJMES is straightforward thanks to its location, and it is also within walking distance from two MRT stations, City Hall and Bras Basah. In the region are other landmarks like the Singapore Art Museum and Raffles Hotel, making the journey all the more interesting.
5. Shop and win with lucky draw prizes at the CHIJMES Boutique Fair! You might just be fortunate enough to win exquisite items from the many unique vendors present.
So set your sights on visiting CHIJMES on the 10-11th of June to make the most of your (and the children's) summer holidays – a nice relaxing day out with plenty to see and eat. It's not every day you get to enjoy a culturally-enriching shopping experience!
Find out more on the Expat Fairs Facebook Page