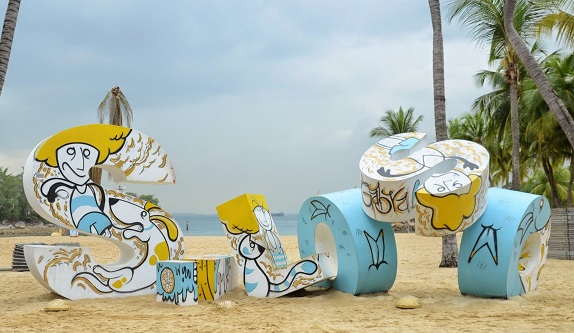 Far from the amusements that Sentosa is well known for is the lesser known residential areas. Scattered along the coast line are a mixture of condos and houses. As far as housing is concerned Sentosa is the Mayfair on the Monopoly board. Real Estate is very expensive to buy, a house is reported to cost $30 million plus. However, to rent a condo on the island is surprisingly comparable to condos in the heart of Singapore. Most condos have a sea view which affords the added bonus of watching the container and cruise ships come and go. Others enjoy a canal view and can even moor their boat alongside should they be so lucky.
Sentosa Residences are split into Coves. South Cove, North Cove & Central Cove. For those without cars, there is a free shuttle bus that operates for residents every half an hour and 20 minutes in peak hour to take you to Vivocity/Harbourfront MRT.
Meandering paths and well-tended gardens hug the coastline and a lovely sea breeze is nearly always guaranteed and most welcomed. Sunrise brings out the cyclists, joggers, dog walkers, meditators, kayakers, and roller bladers. Afternoons and weekends you will find families on picnic blankets, dog walkers stopping to chat and kids playing soccer on the green.
Central Cove is home to QUAYSIDE Isle with some 15-20 restaurants. French, Greek, Italian, Chinese, Tapas, Burgers, Sports Bars and Coffee houses. It is also home to the W Hotel.
It has grown to include a Cold Storage, Watsons, Jason's Gourmet Grocer, Wine and Cheese Providers, Medical Centre, Beauty Salon, Massage & Foot Reflexology, Dog Groomers & Quayside Preparatory School for years 3-6. Most recently Eton House has also opened a preschool.
As a resident you can ride your bikes to any of the beaches using your residence card to get you in and out of security points. Some lucky ones even have a golf buggy for transportation around the island. It is a lot of fun to ride your bike around the streets, viewing some of the more eccentric architecture, the Egyptian House complete with sarcophagus out front, the Polynesian Hut, the Gone with The Wind homestead or the house straight from the pages of the Arabian Nights.
There are monthly coffee mornings & drinks nights for Sentosa Residents which is a great way to make new friends and find out what is happening on the island. More recently a 10 week Bridge class was initiated by one of the residents and has proved to be very popular. There are Zumba Classes, Yoga Classes & Boot Camp at various condos/locations within the Coves.
If convenience is your priority than Sentosa might not suit, the majority of people who live here do so because they feel the need for a quiet, peaceful environment and don't mind having to travel that little bit further each day to get it.