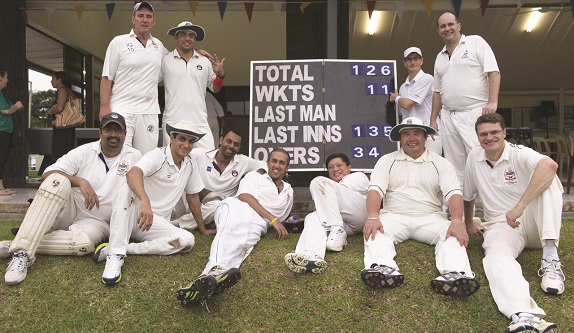 The saddening event in Nepal sparked a surge of humanitarianism in the cricket community, says Geoffrey Forday.
Two years ago, the Singapore-based ANZA Champs celebrated its centenary match by making the pages of not just this magazine, but also the online cricketing bible that is espncricinfo.com. Most teams achieve this recognition due to performance…not so much the Champs.
More than 24 months on and the sporting failings of the team have remained pretty much intact and, in fact, deepened – not only have we not won a league game over that period, it now appears that we hold the dubious honour of having endured a world record score against us in all forms of organised cricket competition.
357 runs in 30 overs. I kid you not. That takes not just an all-in concerted effort, but a high degree of meticulous planning to ensure that we did not stray from the incompetence that we have in many ways, come to treasure.
That said, what we do have is a group of players who, while they are athletic buffoons, possess a genuine concern for using the game and our playing resources to support each other's charity endeavours – with a generosity matched only by the Champs' on-field character. The Nepal earthquake in April struck a chord with many of us and immediately we set about doing something to help the victims of this tragedy.
And so it came to be that on 14 June we would see a group of 22 overweight and unfit men come together to play a game with just more than bragging rights at stake. Though as it turned out, bragging rights weren't a distant second, particularly given the fact that along with our abysmal domestic record, the Champs were – after 9 years of fortitude – still yet to win a trophy game on any overseas cricket tour.
The morning of the Champs charity game for Nepal and many of us whispered a few prayers to all our Gods to let her/him know that what we were doing was not just about breaking the duck, but, please can we just have a proper day's cricket after all the planning that has gone into this shindig.
It was about then that the clouds parted to reveal the celestial rays of His/Her magnificence. Glory be was the whisper in unison when upon which, it of course started to drizzle before turning into a steady curtain of precipitation. You are a joker, you Omnipotent One.
But see, this is the beauty as to why God got to his senior management position. Knowing that our man of the perpetual excuses was likely to be hitting the tiles of down-town Johor Bahru the night before, God pulled a mini-Noah. The rain forced the game to be knocked back a bit, ensuring that the toss we didn't have to have did not take place – and the normally 26 over and out Champs need not become the 40 over and out to early lunch Champs.
This was a wonderfully good spirited game and the Jolly Wallabies certainly played their very fair share in this by playing hard and treating the game with respect and seriousness. They were marvellous hosts for this – probably letting us win for some sort of confessional penance.
More importantly by far is that with the support of both teams as well as a large crowd who had gathered for the charity evening. The Jolly Wallabies and the ANZA Champs were backed by very generous sponsors in Leisure Farm, and the Malaysian Cricket Association raised over $7,000 for the Nepal earthquake appeal. This was a truly spectacular effort by all involved, and made for a wonderful day of playing cricket for a cause.
ANZA Cricket fields four teams from division 2 through 5 of the Singapore Cricket Association. Training is on Sundays.