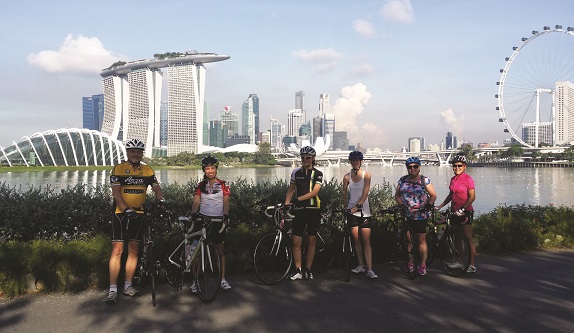 ANZA cycling has been incredibly busy, with a couple of new events fast approaching, Megan Kinder, Frank McLoughlin and Liam Winston say.

If you've ever considered coming out for a group ride but have been put off, thinking the typical ANZA Cycling groups are too fast, too frightening – or altogether too foreign – we now have the perfect group for you to join, with the introduction of a new 'recreational' ride, the East Coast 20.
Pitched as 'a fun ride for those that don't want to go so fast, or so far, but still love the idea of getting out with a group – small group – for a ride on a Saturday morning…', the group maintains an average speed of around 20 km/h and normally covers between 30 and 35 km – subject to conditions and the want of the group. The ride is currently running alternate weeks, every 1st and 3rd Saturday of the month.
If you're concerned about traffic and not confident riding on the road, the route goes down Orchard Road while it is still very quiet and is then virtually all on bike paths, cutting through Gardens by the Bay and then along the East Coast Park cycle way.
The East Coast 20 leaves from Food Canopy on Cluny Road at 7am along with all the other regular rides so you get to enjoy the pre-ride buzz with the main group – Kopi O is good for that! Following the leisurely ride, it finishes up at Dimbulah in Chijmes to watch the othergroups come in – while enjoying just one more coffee. Let us know if you're intending to come along so we don't race off and leave you behind.
Interested in coming out for a ride? ANZA Cycling runs a Newcomers' Ride on the first Saturday of each month. For more info, email cycling@anza.org.sg