Looking to see some humans playing instruments? Gerard Ward digs up places offering everything from unique covers to original music.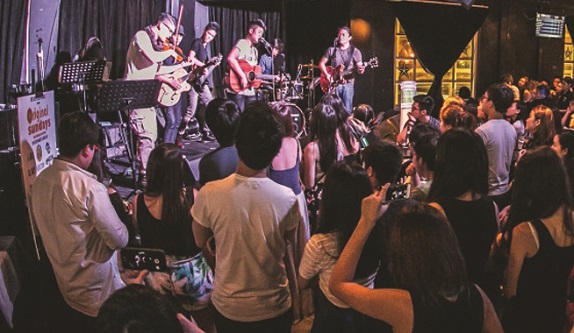 Timbre @ The Substation
Timbre's a good source of live music with three bars. The al fresco space – with that incandescent hue – makes for a great atmosphere. Resident bands like Goodfellas and 53A play twice a week – from acoustic and indie to rock. The pizzas on offer are worth the visit alone.
45 Armenian Street Tel 6338 8030
timbregroup.asia
Astor Bar
Walk into the 1st floor of the St Regis and sink into Astor's red leather seats from 6pm onwards – you'll be treated to resident Ron Sinclair, with his smooth jazz voice and mastery of the piano keys. The cocktails on offer are a delicious mix of sweet, spicy and bitter.
29 Tanglin Road Tel 6506 6859
astorbar.com
Wala Wala Cafe Bar
Among the sea of bars in Holland Village is a place offering a bit more than al fresco dining. Head upstairs to hear acoustic tunes of Jack and Rai, and the classic rock of Shirlyn & The UnXpected. When the residents are away, they find bands to sub, mixing things up a bit.
31 Lorong Mambong Tel 6462 4288
walawala.sg
Blu Jaz Cafe
It's in the name, really. Lively in colours – with the chilled atmosphere of Bali Lane – this multi-levelled chilled spot has musicians playing live blues and jazz every week on Mondays, Fridays and Saturdays. There's also live comedy every week, if you want to hear someone wax lyrical.
11 Bali Lane Tel 9199 0610
blujazcafe.net
Beer Market
Known more for its gimmicky Beer Market Exchange – a stock market-based Happy Hour beer menu changing every half hour – this bar has hosted some pretty good music festivals in the past, and supports home-grown talent. Go for the music, but not for the drink selection.
3B River Valley Road Tel 9661 8283
beermarket.com.sg
Tab
This is where you're likely to find the most range of bands, hosting more local and international gigs – from well-known to up-and-coming – than most. The restaurant has just as much a focus as the music here, but it also means you won't feel squished up against others.
442 Orchard Road Tel 6493 6952 tab.com.sg