Nůmama Choir has a lot more to offer than songs sung in harmony, Joanna Swan says.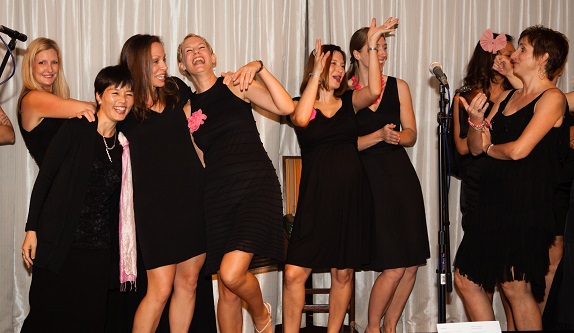 Nůmama was conceived back in the summer of 2009 by two young and displaced British mums in Singapore who discovered they shared something in common beyond a dislike of dirty nappies and sleepless nights: a love for singing.
They went on to create Nůmama choir: a non-profit mother and baby singing group which provides a fun, warm environment for beginners to listen, learn and experiment – from novices wanting to build on their experience to giving Beyoncé wannabes a platform on which to showcase their under-utilised talent.
Their motto is 'Sing, Support, Escape', and their main ambition is to provide a safe space to come to enjoy singing, make friends and share in the unique emotions of singing in a group. To do that with new babies and toddlers in tow is really uplifting.
In just six years, Nůmama choir has grown from a humble hobby performing in a members house to a regular, 30-member strong choir. The choir attracts audiences of over 300 people in two charity performances per year, and performs at prestigious venues such as The Fullerton Hotel, Eden Hall and Gardens by the Bay.
Elaine Chan is the mortar that keeps Nůmama going from strength to strength, and has been a dedicated choir leader and mentor for the last four years. A musical theatre composer-arranger-director, Elaine garnered songwriting awards in her teens, writing and directing her first full-length musical score at 18 – touring the south of New Zealand with it – and was the recipient of the Wong Yee Hua Memorial Award for music excellence. She is the first Singaporean female composer to musically direct the National Day Parade at the Padang. As a vocal and choral coach, she has led luminary choirs on their respective overseas performances.
'Nůmama choir is very friendly,' Elaine says. 'The social mix is great and it's a great way for mothers to bond through music with their children and each other. No other singing group can offer this unique experience. Elaine's favourite part about working with Nůmama is helping busy mums improve as performers while having fun with them and their children.
For the Nůmama ladies, it's not just supporting each other, but also supporting the community both locally and beyond. The main charity that Nůmama has supported for the past five years is Riverkids. Nůmama established and continues to support the Riverkids Choir project, and the Healthy Mother, Happy Baby project. Both initiatives have helped countless children and families in their hour of need, and inspire the Nůmamas to continue to sing their hearts out to help mothers and children far away.
Nůmama's next charity fundraising performance is on Saturday 5 December at the Fullerton Hotel. 'A Night at the Movies' will be a sparkling evening of famous movie theme tune classics, plus a guest appearance from the spectacular Ukuladies – and of course some good old festive sing-a-long songs to get you in the Christmas spirit. Nůmama's next singing engagement will be in support of ANZA Action's annual Salvation Army charity fundraiser, held at the ReDot Art Gallery on 25 November.