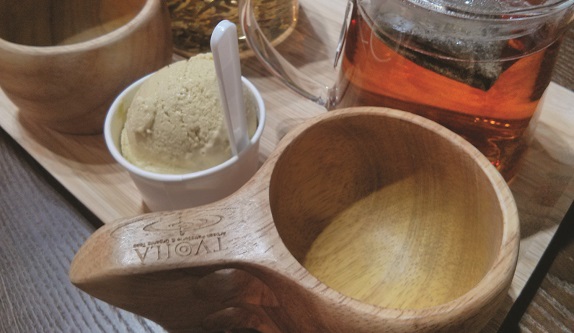 Hidden away to the far side of Orchard Central is a quiet tea shop with an incredible list of flavours to try – all Numi Tea, a California-based organic tea brand. Opting for the Dragon Lily flower tea ($10.50 a pot) – where a large flower acts as your tea bag – the white tea's sweet and earthy taste was emphasised by the wooden mugs given to drink out of. The Basil Mint tea ($6.50 a pot) – one of the many choices of strange teas like broccoli cilantro and carrot curry – smelled incredible, made from a pu-erh tea with a reddish colour.
Running with a Christmas theme, the berry chicken sandwich ($12.80) was triple-decker in height, with dried cranberries, fresh coleslaw, lettuce and tomato. On the side was BBQ crisps and slices of lettuce and slaw covered in too much mayonnaise.Ice-creams on offer were made with tea flavours.
The chamomile lemon ice-cream ($4.80 per scoop) was supposed to be a sorbet, but tasted more like ice-cream – though there were ice particles in parts.
Tvoila
181 Orchard Road
Tel 6238 1051
facebook.com/tvoila