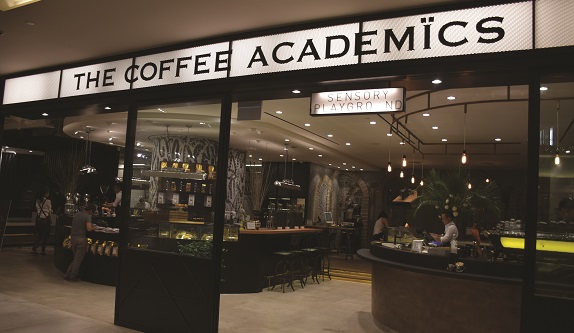 A 'Sensory Playground' sign hangs at the entrance of Hong Kong's gourmet coffee chain's first shop in Singapore. In a city that has hundreds of cafes opening and closing every year, Scotts Square is trying to revitalise its space with a brand that Hong Kong has shown its love for in a space shoppers haven't.
It's hard to avoid seeing some of the brewing methods as science experiments, like the ice drip contraptions that look like an oversized lightbulb with ice cubes in it.
The menu feels more like a modern designer's magazine, with the descriptions of coffee beans feel like you're deciding between a French or Chilean wine.
The Japanese take-your-shoes-off Hand Brew Bar, where a coffee barista literally sits down with you across the bar with a coffee of your choosing – all brewed using different methods – and explains how each method of brewing creates a different result with your coffee.
At the time of visiting there wasn't enough staff to try this out, but I chose to try the JWF Blend ($12), a house blend of Kenyan caracole beans with a supposed fruity, gentle flavour. Coffee is served in a science beaker and a small glass on a tray – there's no milk or sugar to be seen. This place encourages the aficionado within, taking on the comment card given with the drink to read and see what tasting notes to consider as you sip.
For those wanting their comfort, the Okinawa ($7.50) is a latte with Okinawa dark brown sugar in the coffee. Using a particular sugar isn't worth the hike in price however, as it did taste like your run-of-the-mill velvety latte you'd find at a café, it wasn't $2.50 better. Served on a silver tray with a gold spoon and a small glass of water on the side, there's still the dress-up that makes your espresso-and milk drink a bit fancier than usual.
For taste, the serving of crispy fish fillet tacos ($21) – small hard-shelled tacos with sea bream fillet – has a chipotle mayonnaise, topped with a fresh mango salsa and a side of curly fries. The shell was crisp, and wasn't overcooked enough to turn them into shattered corn chip pieces after one bite. The fish fillets are lightly fried, and the mango salsa chopped into fine pieces instead of a puree you'd expect from a salsa.
With the care taken to brew your favourite caffeine dose, you'll make more of an effort to appreciate what you're sipping on – even if the bill is making you reconsider your coffee allowance.
The Coffee Academics Scotts Square Level 2 6 Scotts Road Tel 6538 1940
the-coffeeacademics.com