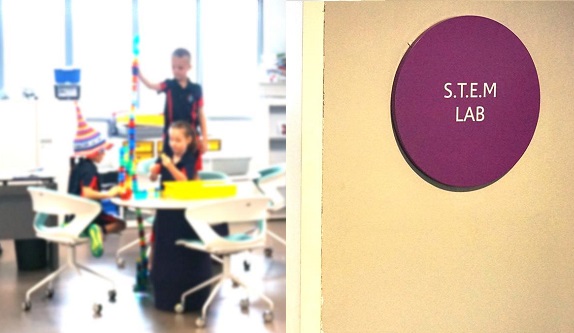 STEM is an acronym for Science, Technology, Engineering and Mathematics. STEM is about providing interdisciplinary integration of subjects to solve real-world problems. This means students need to access knowledge and skills from two or more disciplines to complete a task. For example, Grade 5 students use Sphero robots to complete a golf-course challenge. Students utilise their mathematical skills by counting shots on each hole and working out averages for their game. They use ICT skills to connect and control the robots and present their work. Their mathematical skills are required again to present data in tables and graphs. All the while, they are further developing their IB Learner Profile attributes, such as being an inquirer, communicator and through reflection. This type of learning is more relevant to real life.
Rarely outside of schools do we simply calculate averages from a random set of numbers; why would we? However, by using a STEM approach to learning, it provides purpose and context and is more likely to reinforce a concept. It also helps when students say "Why do we need to learn this?". At GWA (Singapore) these learning experiences are built into all grade levels in the Primary Years curriculum. The Secondary Years classes use STEM as an approach to planning interdisciplinary units, as well as to build upon specific skills in different subject areas.
STEM itself should not be viewed as a new subject in an already crowded curriculum, or purely for those students who need to be extended. It is for ALL students. "To be a good STEM school you must be a good school first and provide opportunities in all subject areas for students to explore and find answers to questions they have about the world around them. Part of the formula for this is having skilled, knowledgeable teachers who address the needs of all students in a supportive, resource-rich environment." (Mervis, 2011)
At GWA (Singapore), the manner in which we provide the STEM experience to our students in the defining factor. Teachers build upon the learning taking place in classrooms. STEM at GWA (Singapore) is about giving student opportunities to apply the skills and knowledge they have learned in different contexts, enhanced with a STEM focus.
So why is STEM so important for student learning? It allows students to apply skills and knowledge to solve problems in relevant contexts to them.
References
1. Mervis, Jeffrey. "Is There a Special Formula for Successful STEM Schools?" American Association for the Advancement of Science., 12 May 2011. Web. 4 June 2015.
2. "The Very Model of a Modern Major STEM School." Smithsonian. Smithsonian, 14 Apr. 2013. Web. 4 June 2015.
3. Vasquez, Jo Anne. "STEM beyond the Acronym." Educational Leadership 72.4 (2014): 10-15. Print.