Anyone is welcome to join in and play a few rounds, Louise Ferreira says.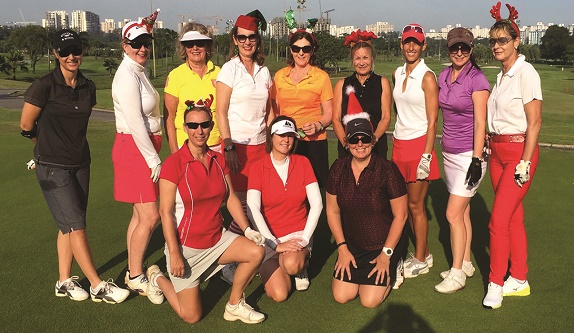 ANZA Ladies Golf Christmas Day
If you play golf and want to enjoy a friendly 18 holes with keen golfers, then look no further! ANZA Ladies Golf group was formed in 1999 by three keen golfers, and since has grown strong with 24 members – and usually around 12 players each week.
Our group includes ladies from countries other than Australia and New Zealand. Members also hail from England, Ireland, Switzerland, USA, Slovakia, Hungary, Philippines, Holland and South Africa.
You only need to be a paid up member of ANZA and to have, or have had, a handicap to join us. The current members have a range of handicaps from single figures to 38.
We play 18 holes every Thursday morning at various courses in Singapore such as Orchid Country Club, Sembawang CC, Raffles CC, Jurong CC and Warren CC. We occasionally play at Tanah Merah Country Club and Sentosa CC.
A couple of times a year we venture further to play over the border in Malaysia at either Horizon Hills or Palm Resort. We also play beautiful Ria Bintan on Bintan Island. If you are concerned about the heat, be assured that all games are played with golf carts – which are compulsory – and we also recommend consuming about 2-3 litres of water per round! The average cost of a game including cart hire is around $130 SGD.
We try to keep the format relaxed and fun, typically playing Stableford with a twist – like 'Better Nine', Hidden Holes or a team game. We play in the morning, followed by lunch at the club where the winners for the day are announced and all important prizes handed out – usually a golf ball!
We currently don't have a beginners group, but are happy to provide advice on how to go about learning golf in Singapore. We can also advise how to get a local handicap with the Singapore Golf Association (SGA).
On days like Australia Day and Waitangi Day, we dress in the respective countries colours and make a competition out of it. Nothing like a bit of Aussie and Kiwi sporting rivalry to create some good-natured banter and competitive spirit.
Our two coordinators, Hazel Tebbutt and Paula Chepelsky, do a fantastic job of organising our games every week, and we all thank them for their efforts liaising with the clubs and with all the comings and goings of the group – Hazel is leaving us soon to return to England and her warm and friendly nature and keen golfing spirit will be missed. Tanya Richardson is stepping in to assist Paula.
Paula had a recent moment of glory by achieving a hole-in-one in December at Orchid Country Club. The second hole on the Vanda course is a 126-metre Par 3 and Paula hit a fantastic tee shot, perfectly directed towards the hole.
The ball bounced a couple of times on the green and went straight in, causing much excitement and hugging amongst the four ladies on the tee box.
Incredibly, Paula has played golf since she was a child and plays off a single-figure handicap, but has never had a hole-in-one, so this was a very special day for her. Hopefully the flood gates have opened now.
If anyone is interested in more information on ANZA Ladies Golf, please email Paula or Tanya at ladiesgolf@anza.org.sg.