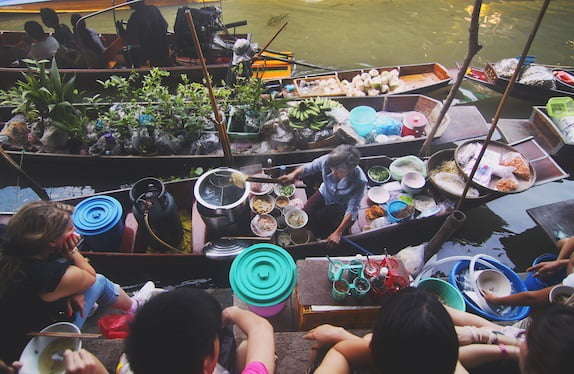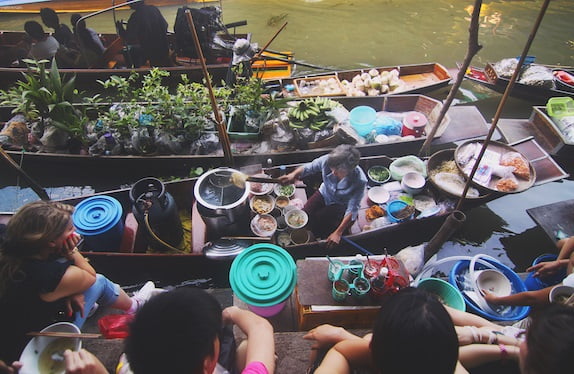 Food is a big thing in Southeast Asia. We've all tried Nasi Goreng, but what about the less familiar ones? Sometimes the really good ones are in restaurants that are no more than just a hole in the wall but you know they are good because the locals frequent them. If you are the kind of guy/ gal that likes to check these places out but don't want to put a dent in your wallet, there is a way to do it on the cheap if you know how. Let's start with these four:
1. Patin Pak Usop, Temerloh, Malaysia
Patin is such a signature dish in the country that it was even served to President Obama when he came to Malaysia. Temerloh, Pahang is THE place to go for you to sample the Patin or Silver Catfish. Cooked with durian, it can be an acquired taste to some, but those that love it say Pak Usop serves the best iteration of the dish. Temerloh is easily reachable, just hop on a bus or a plane to Kuantan and travel to Temerloh via bus or hired transports. Expedia and BusOnlineTicket can hook you up with travel an accommodations. For further discounts, Saleduck has coupons and deals available on their site to give you further reduction on your ticket prices.
2. Pempek Beringin, Palembang, Indonesia
Pempek, a savoury fishcake delicacy, is a must try if you visit Palembang, Indonesia. Served with yellow noodles and kuah cuko (vinegar sauce) it is the quintessential Palembang dish and can be eaten as a main course or as a snack. Pempek Beringin is one of the more popular joints and is worth a visit. Most direct way to Palembang is via a 1.5 hour flight from Singapore, with about 5 flights to the city a week. Bookings can be made via Expedia to find the most economical flight option.
3. Buffalo Thai Restaurant, Ko Lipe, Thailand
Not exactly serving traditional dish, but if you are having some fun in the sun in Ko Lipe, check out Buffalo Thai for the best burgers in town. With quite a decent menu on offer, it is their Mega Burger that fans has been waxing lyrical about all over the internet. With fluffy sesame buns and and amazingly juicy patty covered in melted cheese, it is just way to good to pass over. Easiest way to get to Ko Lipe from Singapore is via Langkawi Island. AirAsia has daily flights to Langkawi from Singapore and once you arrive in Langkawi, you can take the ferry to Ko Lipe at the jetty which is only 10 minutes from the airport. Pro tip: Check out Saleduck's AirAsia page for further discounts for your flight ticket.
4. Bun Cha Dac Kim, Hanoi, Vietnam
People say that when you go to Hanoi, don't forget to eat Bun Cha. There are 2 places that are famous for their Bun Cha in Hanoi and their names are almost similar. The only thing differentiating them is the colour of their awnings, one blue and one orange. Both have great Bun Cha, but I think their spring rolls are more special. You may think that spring rolls are a "taste one and you've tasted them all" sort of affair. Not so in Hanoi. It used to be that a new bride is judged by how well she could roll spring rolls so you know that there is something really special about the rolls here. Hundreds of netizens have vouched on how good they are. If this has piqued your curiosity and you want to make your way over, there are many decent accommodations for you to choose from. Check out Saleduck's discounts for hotels to get you an even better deal for your bookings.
There you have it, 4 interesting foodie places that you can check out in South East Asia. Most of the time, these places are not one of the fancier ones that you can find, but the most important thing is that the locals vouch for them and their prices are relatively decent, perfect for that budget trip you are concocting. Others may disagree, but that's the beauty of the whole exercise, to become passionate about food in the region and creating your own opinions. And in that, I think I am successful.