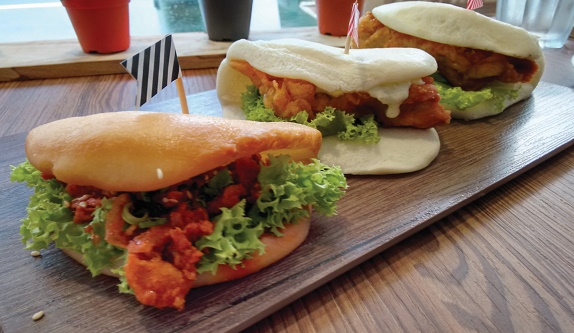 How could we only now have a chili crab stuffed in to pockets of dough? The not-so-subtle gentrification of the Jalan Besar area has given rise to cool cafes with some quirky offerings. One of which serves buns stuffed with different meaty concoctions.
Diners are encouraged to eat with their hands. You need to order at least two (at just over $5 for each one), but three hit the spot. The bun of the bulgogi bao was my favourite, with slightly spicy sliced pork in a fried bun. The teriyaki chicken and Nanban chicken baos are battered, hugged by a soft baked bun.
There are other mains on offer – including pastas and Japanese dons – as well as different sundaes, sides and hot drinks to order while soaking in the hipster surrounds of the concrete walls.
Bao Makers 78 Horne Rd Tel 6291 2330
baomakers.com