Looking for something to do in the next few weeks? Here's a handful of events to check out in June – from a familiar Aussie comedic duo with a penchant for sound effects to a festival purely dedicated to coffee.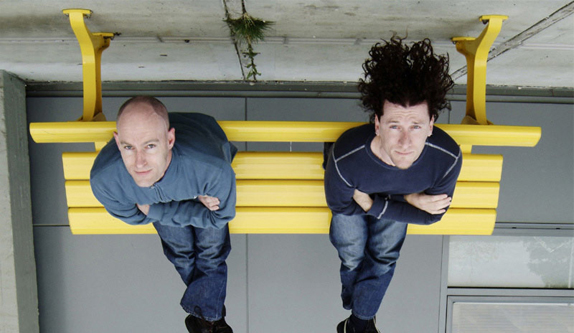 Esplanade Recital Studio
If you haven't seen these two sound-effect masters, then you really ought to nab tickets to their new show, 'Don't Explain'. A skilled fusion of sound, miming and tomfoolery will leave kids and adults in amazement – and stitches.
3-4 June. $35.
Resorts World™ Theatre, Resorts World Sentosa
South Korea's non-verbal comedy show all about cooking a wedding banquet in time for the event has toured worldwide. Based off of the historic percussion samulnori music, this show turns kitchen utensils into instruments.
3-5 June. $48-$138.
Block 71, Loewen by Dempsey, 249679
Set in the lovely setting of Dempsey Hill, the family-friendly fair runs all weekend with great arts, jewellery and homeware stalls – as well as kids activities, like a jumping castle and ball pool, a bubble show and more.
3-5 June. Free.
Odyssey: Navigating Nameless Seas
Singapore Art Museum (SAM)
Jump into Earth's world beneath the water and explore the wonders that humans have discovered with the aid of science and technology – featuring artist loans and commissioned artworks from SAM's collection.
4 June – 28 August. $37-$42.
Grand Theatre, MasterCard Theatres at Marina Bay Sands
The kingdom of Far Far Away gets a bit closer, with the green ogre and talking donkey's adventure to rescue a princess and save the kingdom from an antagonist determined to get rid of every single fairy tale creature.
8-19 June. $65-$175.
The Painters: HERO
Resorts World™ Theatre, Resorts World Sentosa
This spectacle will either inspire you to pick up a paintbrush, or snap yours in half – don't dismay, they've practiced. The talent from these speed-painting artists is on full display in an impressive show of dance, comedy and mime.
10-11 June. $48-$138.
D'Marquee, Downtown East
Your kids might go nuts for Mister Maker, but seeing him in person might just make their year. With a big project planned, there's lots of audience participation – singing and dancing – in the first theatre tour in Singapore.
10-12 June. $35-$110.
F1 Pit Building
Your morning dose of energy gets its own festival. Like any festival, you should take it easy by filling the space between espressos to hear talk sessions, gourmet food, entertainment by local musicians and more.
10-12 June. $11-$43.
Various venues
The Singapore International Festival of Arts returns with its annual two-and-a-half weeks of art in all its shapes and sizes – from performances and films to photojournalism and architecture. See the full list of shows at sifa.sg.
22 June – 9 July. $10-$45.