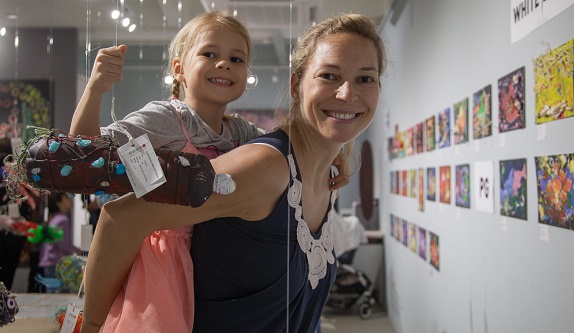 Located in the historic and iconic Old Hill Street Police Station, ReDot Fine Art Gallery is the sole art gallery in Singapore, featuring Australian Contemporary Indigenous Art. Established in 2004, by Giorgio Pilla, this gallery showcases a vast range of art and culture by Australian Indigenous and non-Indigenous artists.
This unique location provided the venue for the annual art exhibition for the children and their parents from White Lodge Kindergarten. The theme of their artwork was influenced by a community art centre known as Erub Arts, which has become famous for their production of Ghost Net sculptures and artefacts made from debris collected from the oceans around Darnley Island, Australia.
The concept behind the art is that there are many fishing nets or ghost nets that become either lost or merely discarded in the sea. These nets can then become extremely dangerous for marine life who can become caught within the nets and then unable to escape.
Several Aboriginal and Torres Strait Islander communities have taken to using the nets, which are often washed up on beaches, to turn them into sculptures and pieces of art work.
The children at White Lodge were educated on the story behind the ghost nets and then worked to produce their individual piece of art. For younger pupils, a stencil of a marine animal was chosen by the child and they were then able to decorate the animal with paints and nets. For older pupils, some took on more challenging pieces by using items like old plastic bottles and plastic bags to make marine life sculptures. They decorated them with paints and used the nets again to capture the art concept of the wildlife being trapped in the ghost net.
Each evening, the work of children were showcased at the gallery for an entire week with the art work changing each day. Parents and children were invited to attend on the corresponding day that their work was shown to come and look and enjoy the exhibition. This involved over 500 pieces of work being displayed during the week.
White Lodge strives to provide an education with "something more". The annual art exhibition is an imaginative way to showcase what the children have been focusing on at school and to get the parents together to enjoy what their children have been learning collectively.
At White Lodge, there is a passion for learning and education. The concept of the ghost net art exhibition has given every child an insight into learning about another aspect of the world in a creative manner.
Photo Courtesy of ReDot Fine Art Gallery