The sixth annual Volunteer of the Year Awards celebrated the generosity ANZA's volunteers give year-round to enrich our association.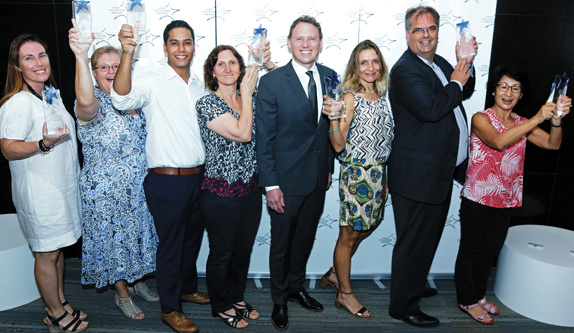 Close to 200 turned up to the Australian High Commission in May to thank ANZA's dedicated volunteers, who constantly offer more of their time and effort to the association than was ever expected of them, at the sixth annual Volunteer of the Year Awards. Australian High Commissioner to Singapore Philip Green and Deputy New Zealand High Commissioner to Singapore Mary Thurston – as well as Charities Patron Antonia Kidman – came to help present awards to the winners.
Whether it's through our sporting groups, monthly tours, interest groups or charitable work, ANZA volunteers are truly the dynamic force of our community. Each and every volunteer has been – and continues to be – an integral and valuable part of the ANZA team.
We have over 300 active volunteers in ANZA, all helping make the association what it is today, and it's this willingness to help others that has helped keep ANZA flourishing for almost 70 years.
This year we received more than 100 nominations for almost 50 nominees. Reading through the nominations was a moving moment for ANZA staff, further proving how much our members treasure the hard effort put in by every volunteer.
The Australian High Commissioner to Singapore Award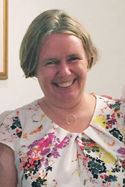 Sarah Anglade
ANZA Soccer
On the ANZA Soccer committee for the last five years, Sarah can be found pitch-side every Saturday; and Sundays at grounds scattered across our Little Red Dot. In addition to her regular duties, she was the lead organiser for this year's SEA Cup, which ANZA staged – and won – in March. Sarah also continued as the Saturday U14 Age Group Coordinator and Sunday Senior Competition Coordinator. She has volunteered tirelessly as ANZA Soccer's Age Coordinator for four years.
The New Zealand High Commissioner to Singapore Award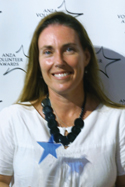 Louise Pike
ANZA Netball
A wonderful ambassador for ANZA Netball, Louise promotes fair play and healthy competition. Volunteering a great deal of her time over the last five years, the working mum with three kids still manages to organise so many aspects of the netball season. Louise takes on a big role in ANZA Netball – not only does she organise the Perth trip, but there are always emails from her keeping everyone informed. She can be found at netball every Saturday and is always happy to help.
The #ANZA Award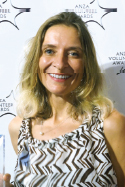 Laura Gordon
ANZA Cycling
Laura is the social media guru for ANZA Cycling making sure that #anzacycling is a constant on Instagram. She has spent countless hours over the last couple of years as ANZA Cycling's unofficial travel agent. She has seamlessly done all the grunt work for trips on a regular basis – from Malaysia to Indonesia and Taiwan. Whether serving banana bread from the support car or 'herding the cats' on Saturday ride send-offs, she provides a friendly and informative guiding hand for cyclists old and new.
The ANZA Action in the Community Award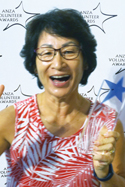 Sandra Poh
ANZA Action
Sandra is a quiet achiever for ANZA. A long term member of over eight years, she has been an integral part of the New Members Committee, helping people to settle into Singapore. Tirelessly enthusiastic, she goes beyond her committee duties, networking, encouraging people to join activities, setting up ad hoc groups for outings, charity events and various interests. She also volunteers for four of ANZA Action's charities regularly, and is always the first to put her hand up to help out when required.
The Outstanding Service to ANZA Award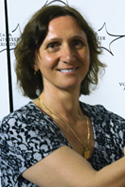 Gina Kubal
ANZA Soccer
Gina has been involved in ANZA Soccer for 19 years, starting when her eldest of her three sons was 5 in 1995. Serving on the committee for 12 years, Gina no longer has children involved in ANZA Soccer, yet continues to serve the community. She has brought a management approach with older teenage boys – whose reliability varies with the levels of testosterone – that keeps the boys in line, but is also committed to the wider team. She has a generous, gracious presence on the committee.
The Outstanding Service to ANZA Award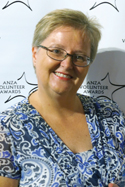 Halyna English
ANZA Soccer
Halyna has been with ANZA Soccer for eight years, and as one parent has said of her, 'There would be no ANZA Soccer without Halyna'. She gives her time generously, and is always positive and upbeat, no matter the situation. Her rapport with the players and parents has made ANZA Soccer a welcoming environment. Halyna is passionate about having a well-run and fair competition, and shows genuine concern for all the players. She has a wonderful bond with the players, parents and coaches.
The ANZA Members' Choice Award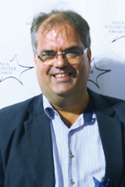 Marcel De Bruijckere
ANZA Soccer
Marcel passionately believes in motivating young soccer players. Marcel has also shown a knack for engaging parents, making them more involved with other team parents and the rest of the team – and his rapport with other coaches has genuinely helped bring the ANZA community together. Marcel is a fantastic coach, and an organiser of the Jakarta trips and ANZA Youth Soccer teams for several tournaments. He tries to include kids with different skill levels, and is extremely positive.
The President's Award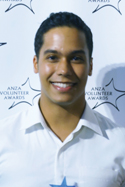 James Mansfield-Page
ANZA Scouts
Having been a Scout with 1st ANZA himself when growing up, the recent Baden Powell Award-winner returned after doing National Service as he wanted to give back and pass on the many useful skills that he learned. For almost four years he has been a fantastic example to other Scouts. The Scouts often see him as something of a big brother as well as a leader, as he effortlessly crosses the boundary between being one of them and also being able to instantly take charge. He is an inspiration for all.
Nominees
Allison Alcorn
Alp Altun
Amanda Moore
Bill Hickling
Cara D'Avanzo
Carol Asquini
Carol Woodroofe
Clive Tilbrook
Corinna Ranger
David Powell
David Boyle
Donna McWilliams
Frank McLoughlin
Geoff King
Gina Kubal
Giulia Yallouris
Halyna English
James Mansfield-Page
James O'Reilly
Jane Maxwell
Janine Furlong
Jodie Keany
Karla Loughnan
Kathy Campbell
Keith Thorn
Kevin Hynds
Laura Gordon
Louise Pike
Manfred Korger
Marcel De Bruijckere
Megan Kinder
Michael Kenderes
Michelle Wheeler
Nick Challoner
Nikki Rackham
Oscar De Bok
Paolo Flury
Paul Tynan
Rachel Landau
Robin Eng Soh Chung
Sandra Poh
Sarah Anglade
Shirley Goodare
Sue Chamberlain
Sue Corser
Sue Elliott
Travis Mills