Some new players joined the fray and risked injury for victory, Rohan Wilson says.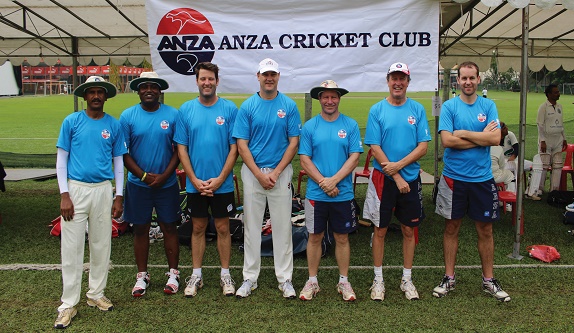 ANZA again contested the Dennis Myer Over 35 Sixes with nine fine, not so young men fronting the fray. Newbies to Singapore John Butler, Kirin and Matt joined ANZA Dennis Myer veterans Sandesh, Rohan and Skipper Clive with everybody contributing along the way. In fact we contributed so well that we passed the fancied Singapore Cricket Club, the international teams from the Philippines and Australia, and made our way to the final, where we faced the Masterbatters. Comprised mainly of – would you believe it, ANZA Cricket Club members – the Masterbatters were deserved winners, despite a valiant effort from ANZA.
Div 2 saw newbie Stuart Rudge score his first 50 for the club, Dennis 26 off 27, Michael Rooke 42 off 44 and Sandesh 35 from 33 were also in the runs. Merwyn led the bowling with 1/26 off 8, Stuart backed up his batting with 0/25 off 8 while debutante Deepen took 2/35.
Div 3 had a good win over old enemy Singapore Cricket Club, despite scoring 5/156 with Renato, providing 67 of those aided by Elyas (26) and a much needed cameo from Paul Stewart (30 off just 12 balls). Mr Dependable (Clive)'s bowling was tight, delivering 1 for just 9 runs of 6 overs. Sandy piled on the pressure taking 3 for 16, Paul Stewart turned the screws with 1/22 and Rohan enjoyed the scraps with 3/17 to leave SCC 30 short. John Butler's destruction of his hamstring in pursuit of victory should not go unmentioned.
ANZA Champs have shaken off the shock of winning their first game in three years and decided they might just risk doing it again. Ashwin led the way with 72 from 44 balls. Captain Haroon kept things rolling with 21, newcomer Yash hit a quick-fire 47 – but the best was left to last with Chirro proving what we know he can do smashing 77 off 50 balls to post an imposing 7/256. Challengers made a good retort, however Logu (1/26) and Munib (1/21) kept them in check while Chiro's brother Joy snaffled 3 wickets – and secret weapon Geoff Forday took 1 for 8 in his first over in at least three years, to leave Challengers 30 short.
ANZA 4 have been building to their first win of the season with some great performances in difficult circumstances, with ever-positive Captain Graeme leading the way. Despite Avi (2/31), Abel (0/30) and Brad's (he assures me he will be ready to bowl again before the end of the year) best efforts, Champions CC got to 220, leaving a daunting chase. Not to be outdone, Avi (35 from 33) and Raunak (28) set the base for Nat Stapelton (who knew he could bat as well as bowl) to smash the bowlers for an amazing 95 from just 58 balls – of course he will be fined for century avoidance! This gave Captain Graeme the chance for victory, only to be caught on the boundary!
The momentum was put to good use when Millenium CC was kept to 175 with Graeme 2/13, Dave D 1/35, Raunak 0/26 and David Vu 2/36 – keeping it tight. Avi (Mr Dependable 46/36) and that man Nat Stapelton 59/49 set the base with Stuart aiding Nat to bring home the first win of the year.