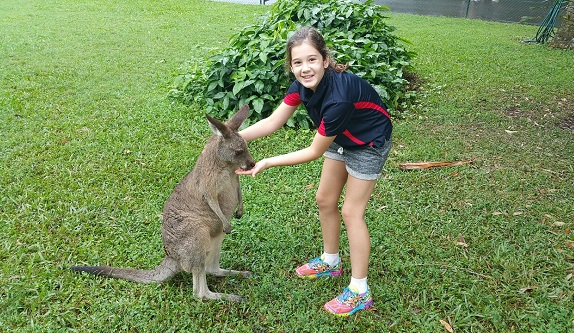 Experiential learning is a process which results in greater student engagement and, whilst most educational pedagogies allow for some exposure to experiential learning, approaches which fully integrate these experiences within academics deliver greater opportunities for student leadership, enriched learning and improved academic performance. GEMS World Academy (Singapore) embraces the notion of experiential learning to provide students with connections to a range of learning opportunities to create experiences which are relevant, interesting and absorbing.
All students in the school take part in the GEMS World Academy (Singapore) Experiential Learning Programme, with targeted programmes providing differentiation across all grade levels. In the Secondary Years (Grades 6 through to 10) students have recently visited locations in Australia and Northern Thailand in addition to engaging in experiential learning activities based here is Singapore.
Australia provided Grade 6 students with authentic opportunities to experience Aboriginal culture and visit Australia Zoo to learn about wildlife preservation and conservation. Students developed awareness of environmental challenges through the study of coastal dunes and engaged in tree planting to protect the Australian shoreline from erosion. Students in Grades 7 – 10 travelled to Thailand to support the local community through building fish farms, improving conditions in a local school and preparing fields for planting to support food production for the local community.
Singapore based activities engaged students with environmental considerations, encouraging students to develop a deeper connection with the local area, appreciate the pressures we place on the environment around us and develop solutions to some of the challenges we face as a nation.
Further to supporting academics, all experiences develop long-term connections between the students and the world around them, engaging them in participation to continue developing involvement and interaction with their surroundings, whether local, regional or global.
Additionally, experiential learning fosters the development of communication and social skills through team work, independence and challenge, with students at GEMS World Academy (Singapore) making significant developments in these areas as a result of the programmes they are involved in.
A key aspect of all experiential learning programmes is that of reflection which links experiences clearly back to areas of the curriculum adding value to learning opportunities, academic progress and personal development. This ensures that the activities enhance learning whilst also facilitating effective community participation for all of our students.
Author: Mark Gardner is the MYP and IGCSE Coordinator at GEMS World Academy (Singapore). He has worked in education for 20 years with roles in the Middle East and United Kingdom.