Suit up, shape up. If you're looking to give some new sports a go – from teams to one-offs – there's a heap of places to hit up, Gerard Ward finds.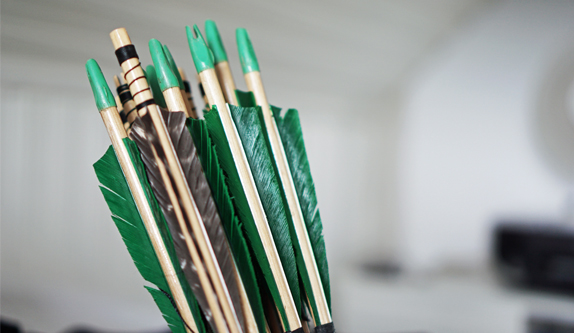 Archery
Archery Club of Singapore
542 Hougang Ave 8, Block 542, 530542
9721 1933
archeryclubspore.com
Kids and adults can join in on a basic course to get a hang of holding the bow and arrows, and the correct posture. Coaches will be nearby to make sure no one gets hurt getting accustomed to the traditional way of hunting. The club also runs the Punggol Trial Shoots for its members for those wanting a bit of competition. It's $15 per person to join a group session – though there's an initial $80 annual membership to get first.
Baseball Batting Cage
Homerun Baseball
200 Pandan Gardens #01-01/02/03/04, 609336
6635 6315
hrb.com.sg
Set up almost like a golf driving range, there are four places for people to whack some balls. The softball section pitches larger balls for those looking to hone in on hitting the ball first before advancing to the 80km, 90km and 100km pitching areas. The machines are fed by pre-paid tokens at the counter – each token gets 12 balls. At first you may not think it's enough at $40 for 11 tokens (discounted if you become a member), but by the third go, you'll start to feel certain muscles begin to ache.
Trampolines
Bounce Singapore
Cathay Cineleisure, #09-01, 8 Grange Road, 239695
6816 2879
bounceinc.com.sg
Bounce Singapore has turned the top floor of Cathay Cineleisure into a haven for kids to be kids, and adults to be kids. The Free Jump area, has a dozen trampolines connected together, some in an L-shape with the wall, with soft padding – hiding those painful springs we've all fallen into at one point in time back in our youth. Three long trampolines lead to a massive 'Big Bag' inflatable pillow – best for those wanting to act on childish eagerness to practice front-flips, or just to jump in. There's sixteen trampolines set up for dodgeball, and two basketball rings hovering over two trampolines – a basketballer's dream to be able to dunk. One hour for kids under 110cm is $17, and for the taller kids-slash-adults, $24.
Surfing
Splash-N-Surf
1B Stadium Walk, 397690
6653 8900
sportshub.com.sg
If you don't feel the surf gene in your DNA kick in when you're in the water, then learn it. Kallang Wave Mall's Splash-N-Surf Water Playground has a lazy river with inflatable tubes for relaxing, but the Stingray surfing half-pipe is where kids and adults can try a board, kneeboard or bodyboard. There's a 1.2m height requirement as a heads up. One hour ranges from $35-$40 depending on peak times, but a Stingray lesson is $42 for adults, and $38 for kids 12 and under.
Ice Skating
The Rink
JCube #03, 2 Jurong East Central 1, 609731
6684 2374
therink.sg
From six years old and up, anyone wanting to learn the tricks of the ice can get a pair of skates and cruise around the rink – or grab some basic lessons – at The Rink at JCube. It doesn't just stop at the basics, however. Those interested can up the ante and try their luck at some figure or speed skating lessons. Lessons start from $70 per 30-minute slot.
Fencing
Z Fencing
293 Toa Payoh Lorong 6 #04-01, 319387
6354 0102
zfencing.com
Sometimes it takes courage to want to defend yourself against a sabre, but luckily there's a whole bunch of groups ready to teach you the craft of fencing. Z Fencing has a list of programmes set up for kids as young as 5 to adults who are wanting to wield some steel, though it's not just swishing your foil or épée around – there's a lot of rules, etiquette, footwork and mental techniques to learn. A 3-month term for kids will cost $706.20, and adult courses are $214 per package.
Go-Karting
KF1 Karting Circuit
1 Turf Club Avenue, 738078
6891 1191
kf1karting.com
Some may not see it as a sport per se, go-karting can be physically demanding and require quite a lot of strong reflexes – it's also the closest the public can get to any F1-like activities. German Formula One track designer Hermann Tilke – responsible for creating the full-sized Marina Bay Street Circuit – designed the 960-meter, $2 million track complete with night-time lights. Riding go-karts at 50km/h engines (for those with licences, otherwise 30km/h) can be addictive. Sessions range from $35-$45 per 10-minutes session.
Table Tennis
OCBC Arena
5 Stadium Drive, 397631
6653 8900
sportshub.com.sg
Pick up a couple of paddles and some balls from the local sports shop and book out one of the ten tables in OCBC Arena. Taking up half a basketball court, ten tables are laid out, sectioned off by waist-high fencing. For $6.50 an hour you can whack away in your own space dedicated to table tennis. Booking online is incredibly easy, there's no membership fee required, and the best part is you won't feel bad if you're not a pro – just try not to hit on to the other tables too much.
Ice Hockey
Singapore Ice Hockey Association
JCube #03, 2 Jurong East Central 1, 609731
siha.org.sg
The Singapore Ice Hockey Association (SIHA) runs a handful of programs from youth development to an adult ice hockey league for men and women. They also support the Rink's Advance Learn-to-Skate program – commonly known as Learn-to Play – for beginners. Get in touch to find out how you can join in the team or start your ice hockey journey. Games are held at The Rink at JCube – the same place where beginners attend their training lessons.
Sailing
Changi Sailing Club
32 Netheravon Road, 508508
6545 2876
csc.org.sg
From the single-person Optimist dinghy all the way up to keelboat crew member, Changi Sail Club runs weekend training courses to get you up to speed with competent sailing techniques. You'll be shown everything that you need to know, from the parts of the boat and points of sail to rigging and learning to avoid collisions and recovering after being capsized. Four full-day courses start from $361.65 – or cheaper if you're a member.
Kayaking
Adventure Paddlers
131 Pasir Ris Road, 519148
9737 7944
adventurepaddlers.com.sg
There's kayaking in MacRitchie Reservoir, but heading out to sea is the next step up. The company that shares space with the Ohama Beach House along Pasir Ris Beach rents out kayaks at an affordable $10 an hour per person, or $50 for the day. Adventure Paddlers teaches courses to properly deal with the types of challenges you'll face. If you don't mind paddling far, you can also arrange for an expedition to places like Pulau Ubin – check out the Facebook page for a camping trip through the islands of Bintan.