Keen Singapore street photographer Sandra Macheroux meets the man making all the murals around town.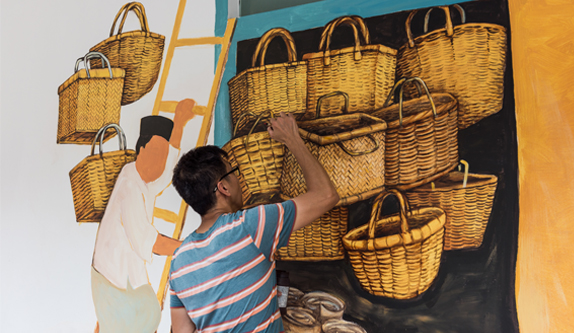 A while back I came across some eye catching murals on a photography walk in Tiong Bahru. Intrigued by these nostalgic and obviously heartfelt paintings I consulted good old Google and found out that they were painted by Yip Yew Chong – also known as YC.
Since I had taken quite a few photos of the murals I decided to send them to YC via Facebook – it's amazing how easy it is to connect to people via social media. His response was very lovely and genuine.
We exchanged a few messages, and he let me know that he was commissioned to paint a new mural – called 'Satay Club' – for Hotel NuVe in Jalan Pinang, Kampong Glam. This seemed like a fabulous opportunity to meet the artist, photograph him in action and to ask him lots of questions. It was an absolute pleasure to meet Yew Chong, his friends and even his family in this relaxed and creative setting. He is a very kind and softly spoken man, but also has a great sense of humour – and an incredible talent. His 'Provision Shop' mural made it onto ANZA Magazine's January cover.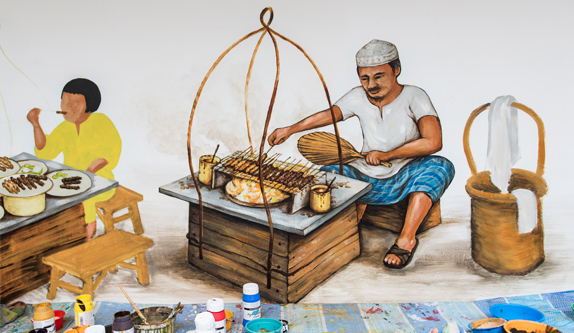 Photos by Sandra Macheroux.
He is devoted to his craft and ensures all his murals accurately represent street scenes in the olden days. He seeks out guidance and information from senior citizens and historic records. It is so great to see that he is becoming very well known for his wonderful art especially because he only started just over a year ago. During the week he works in corporate finance, and on weekends he creates beautiful art in historic sites all over Singapore.
YC has a fantastic blog (yipyc.com) and is great at keeping his Facebook page updated (facebook.com/yip.yewchong). He enjoys meeting people, and is so appreciative of positive feedback – so maybe you should go up to him and meet him while he's creating yet another Singapore masterpiece. Here's our chat with the artist himself.
What was your first mural, and how did it come about?
My first mural is 'Amah', painted on an old house perimeter wall at Everton Road. I was taking a break from work and decided to try painting murals after spotting the murals on Victoria Street painted by the acclaimed Penang-based artist Ernest Zacharevic. I contacted the owner [of the building] to allow me to use his house wall as a canvas.
When did you first start painting?
I can't remember. It must be when I was a few years old. It was probably drawing rather than painting.
What would be your dream mural location or subject matter?
I dream of painting a Chinese Opera tented stage scene in Chinatown – where I was born and grew up. I've spotted a wall at Kreta Ayer Square, however the town council and MP rejected the idea, citing the wall needs to be white and blank in case of events – to be [used as] a screen for projection of images. I am disappointed with the reason, but I have moved on to look for new walls in Chinatown. In fact, I am dreaming of making the project much bigger – motivated by the rejection. I am planning to do four murals depicting scenes of Chinatown, and am lobbying for support. I hope the public will also help me to gain support from the government agencies.
If someone wanted to commission you, how should they go about it?
They can contact me with an idea of what they want on the wall, with a photograph of the wall and a budget. However, since I've rejoined the corporate world and have a limited time to paint on weekends, I am dedicated to do only publicly accessible street art. Although money is not my motivation, I do not do painting for free as I want to uphold the value of arts and crafts in Singapore, which is very often taken for granted as 'free'. On rare genuine charitable causes or occasions, I do it for free to supervise volunteers, or pass on my experience to younger generations.
Have you got plans for another mural in SG? Can you reveal the location?
I just completed a heritage mural at ground floor of Plaza Singapura. I have a line-up of projects until early next year in Singapore. I normally don't disclose this because there may be changes to plans by the owners or approving authorities.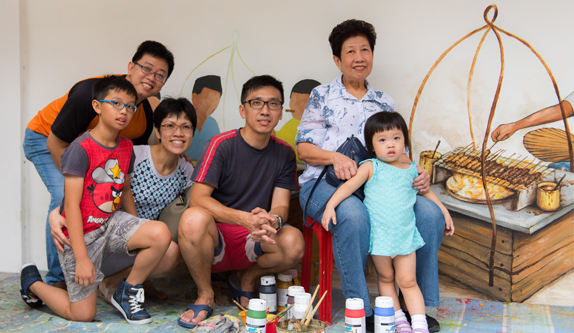 YC with his family, including his mum, sister, brother-in-law and his niece and nephew.