Attempting a staycation at ParkRoyal on Pickering resulted in royal treatment and a view to match, Gerard Ward says.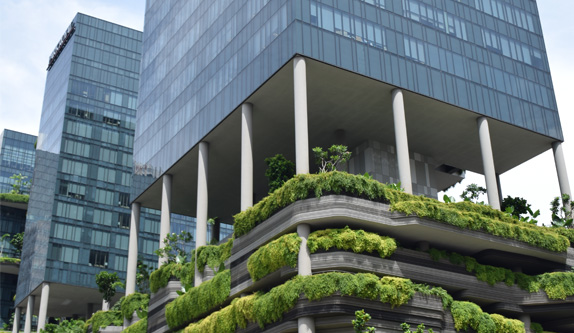 I've been eyeing the building ever since my first week at ANZA – we were working on the topic of fancy and green architecture that month, and its unique shape and coverage of plants on different floors made it a standout structure for me.
Given its location between Clarke Quay and Chinatown, it's hard to avoid the towering spectacle of Parkroyal on Pickering. Buses pass by it, pedestrians ogle it, and for a night, my partner and I finally made it inside its walls.
The thing to remember with staycations is forgetting what you know. A first-time visitor would consider this hotel to be right in the middle of Singapore, with a great view of the business district. What I already know is that nearby are some fantastic cocktail bars that pride themselves on being hidden – 28 HongKong Street for example – and cafes that I have also gushed over two issues ago. Chinatown is home to a smörgåsbord of cuisines from all over Asia – with the debauchery of Clarke Quay obscured by Clarke Quay Central and Swissotel. But I must return to a mind of a blissful, curious fellow who wants to enjoy some time away from home – no matter how close via MRT it may be.
Parkroyal on Pickering is the more lavish of the Pan Pacific Hotels Group's occupancy in Singapore. What looks to be three buildings attached by a bridge is actually a structure built to make the most of the sunlight it gets each day. Covered in green gardens on various levels, the hotel-in-a-garden concept has been winning praise for its environmental initatives – as well as winning Asia's Leading Green Hotel award late last year.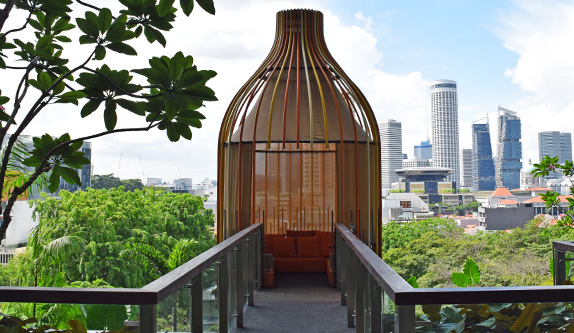 One of the birdcage seats along the fifth floor.
Before heading to my room I check out the fifth floor where the pool is, finding colourful birdcage-shaped seats hovering above the northward-facing infinity pool. Surely these seats offer optimal shade in weather that can at times be very cruel, but luckily the sun is out, with a breeze that passes through. On the other side is a little garden with mint, rosemary, Thai basil, ginger and turmeric to give kids an idea what different plants look – and smell – like.
Floors 6 to 15 are for the rooms. Walking into my room, I notice a large fern outside of the window obscuring a bit of the view – though I don't mind, oddly enough. It's a natural reaction to think of it as a distraction, but I wanted to stay here because of the greenery. How I would be eating my words if I complained about it. This particular room has a bathtub outside of the bathroom, with small windows to stare out into the distance when soaking the bones from what I assume is a full day of exploring.

The bedroom with a green view of the city.
Seeing as I felt the know-it-all of the Telok Ayer area, I wanted to make use of the Orchid Room on the 16th floor – when reserving your room, there is an option to have access to a space intended for adults wanting a bit of quiet.
With couches, marble tables and modern wood cupboards and shelving, it's a considerably nicer space to hang out in than your room – though the room's office desk and chair is more than enough if you wanted your own work space. The free-flow of Gryphon teas, espresso-based coffees and juices all day is a benefit in itself – I'm sure ordering a couple of teas at hotel prices adds up quick – but hopping up here offsets that cost quite quickly.
Sitting in the Orchid Room during afternoon tea, there are some light snacks and sandwiches – from beef pastrami to salmon – with some dumplings and bite-sized cakes. Indeed, there's something on offer three times in the day, meaning it would make sense to take advantage of all three meals if you wanted to save on money. Afternoon tea started at 2pm, and while working away for a couple of hours, eventually the cocktails and bites kick in at 6pm – as well as wine and beer. A standing cook whips up some spicy aglio olio and spaghetti Bolognese. Next to him is a table of cakes, dumplings, a cheese platter and some duck rillettes.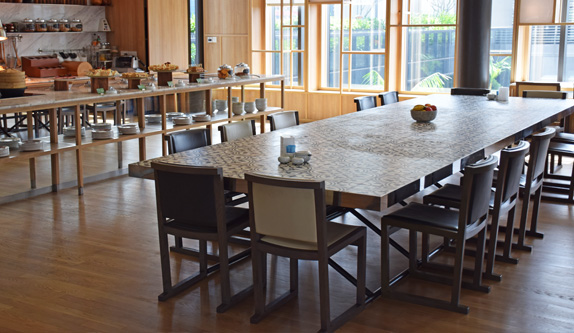 The Orchid Room on the 16th floor.
The big windows give a great view of the city, and as the lights of the city begin to pop on, it makes me wonder what a thunderstorm would look like from up here. The infinity swimming pool at night is calm, tranquil even, with the surrounding birdcage seating, the muted music coming from the nearby gym, and the lights of the city beginning to turn on to face a Saturday night.
After a good night's rest, we pop back up to the Orchid Room in the morning, champagne breakfast is on offer – all included. A chef whips up omelettes, crispy bacon, pork and chicken sausages, fruits and squeezed orange juice. 'Does the champagne breakfast have champagne?' I coyly ask. 'Of course!' one of the server smiles, coming back with a flute of Piper-Heidsieck.
I've not taken the time to explore Lime Restaurant, the hotel's attraction for brunch fans and those who need a little more choice than space in the stomach. The spacious restaurant has a lot of stations to visit, with visitors seeing the Alice in Wonderland-esque dessert table first – a clever tactic for those knowing to reserve space for sweets.
Each station focuses on cuisines, from the pile of Malay satay sticks, Indian live prata chef and sushi plates to roasted prime rib with horseradish jus and Yorkshire pudding for the English roast fans. One of the live chef stations is advertising eggs benedict with lobster, which I scoop up.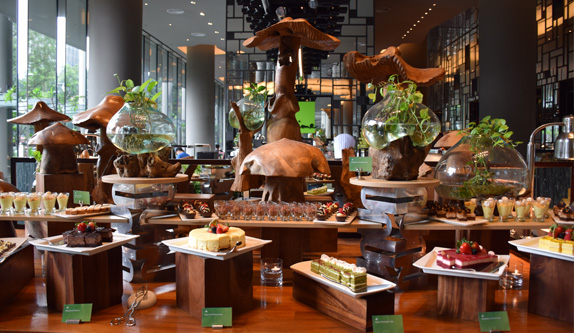 Lime Restaurant's forest-themed dessert bar.
Another station serves lobster laksa. Lobster seems the favoured meat, and turns out it's also around the same time as Lobsterfest – a separate offering later in the day that Lime runs.
Between plates there's a drink trolley rolling around for diners to try some sangria if they wish – and wish I did. My almost failure in finishing was not for want of trying, but my eyes got the better of me, and I needed to rest. I don't go to buffets like this, and greed got the best of me.
Making use of the final space reserved for dessert, I take a piece of sticky honeycomb candy with sweet gula melaka and vintage strawberry ice-cream scoops – only then noticing the nitrogen red velvet ice-cream with red velvet sponge crumbs, which now in hindsight I wish I made room for.