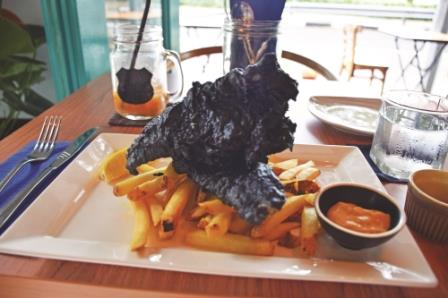 Simply Mamam
52 Blair Road, 089952
6592 0054
instagram.com/simplymamam
Replacing Chotto Matte on the corner of Blair Road, Simply Mamam is a new restaurant serving a mix of local dishes – for example, prawn laksa, beef rendang and nasi lemak – and Western favourites like steak, fish' n' chips and lamb chops.
Despite being quite modern, from its mismatching chairs and low-hanging lights, the restaurant itself has that old-fashioned vibe to it; allowing it to fit well with the shophouses that take up the rest of the street. The interior feels very homely and relaxed – due to the small space it takes up – and the staff is extremely friendly, giving you more information about meals and additional options that can be added.
The restaurant offers a large set of dishes, including brunch, soup, salads and other mains – along with a selection of hot and cold drinks. I ordered the charcoal fish' n' chips ($16), the beef rendang ($11) and the Thai milk tea ($7).
The Thai milk tea came out in a mason jar and was sweet but a little small, considering the price.
When the charcoal fish' n' chips arrived – having not properly read the description of squid ink covered batter – I was surprised to find the fish batter was black. As a whole this dish was flavoursome, though I felt this dish was trying a little too hard – the fish was well-cooked and the batter was just the right amount of saltiness, but the truffle fries didn't really tie in well with the dish.
The size of the beef rendang, served in an angled bowl, was fairly small with just two slices of toasted bread for dipping. That aside, this dish was great, with the sauce not too heavy, and the flavours of coconut and the chili aftertaste well-balanced. Inside, the slow-cooked meat was soft and perfectly cooked.
Simply Mamam is a wonderful little restaurant offering good food in a handsome neighbourhood. With the staff and relaxed ambiance, this is a lovely spot to enjoy a nice meal. -CW