Two chefs in Singapore are reimagining two iconic Australian snacks.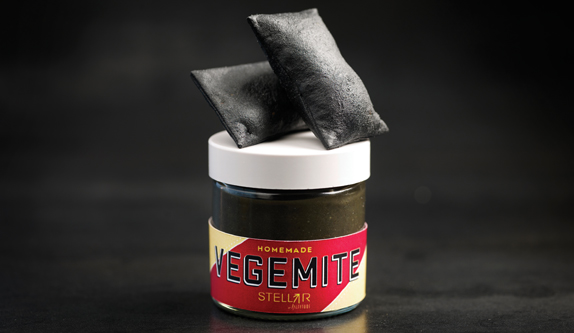 Vegemite on Toast
Christopher Millar, Executive Chef of Stellar, has tackled the spread that separates the nation. You either love it or hate it, but on the 62nd floor you'll get to try the Melbourne-born chef's interpretation of the yeast extract, as part of the newly launched Antipodes Menu.
The world's nickname for Australian and New Zealanders, the Antipodes menu is a reflection of both Millar's heritage and career. Big on seasonal ingredients, the menu pulls cuisines from all over the globe – the key element of contemporary Australian cooking.
Keeping in line with the playful nature of contemporary Australian cuisine, the starting dish is a small glass jar, with toasted sourdough pockets. Inside is a runnier paste with subtle hints of Vegemite – remember that it's an acquired taste – and more like a light miso paste. Taking a bite of the small sourdough pocket, diners can scoop the Vegemite into the hole and devour it almost like salsa to a corn chip.
The spread, which was developed as a way to make use of the dumped yeast from beer making, is now an iconic Australian taste. It seems only fitting to try and recreate that taste in a refined setting like a fine-dining restaurant.
The full eight-course Antipodes Menu is priced at $190++ per person, and is available for dinner only. Plans are for the menu to last until at least the end of January, so if you're interested, give it a go.
Stellar
1 Raffles Place, level 62, 048616
6438 0410
1-altitude.com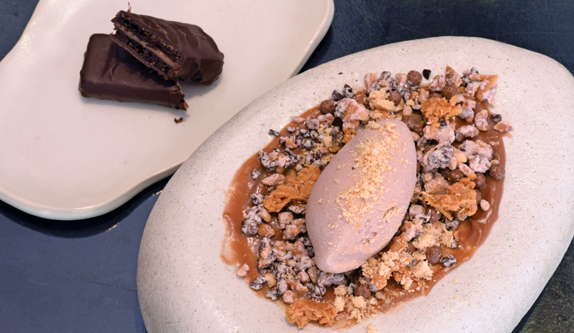 Deconstructed Tim Tams
The biscuits with the uncanny ability to disappear from the packet sitting in fridges around Australia are heralded as the 'biccies' of choice with a cuppa in hand. The Tim Tam Slam – biting the ends of a Tim Tam and drinking a hot drink to melt the biscuit to a gooey mess of deliciousness – is a favoured way to enjoy the chocolatey treat.
Some may even have the habit of deconstructing the biscuit by biting it piece by piece. But what about a complete deconstruction? We're talking about taking apart the ganache, milk chocolate cream filling and the melted biscuits and devouring them like a civilised adult.
Head Chef of contemporary Australian-Italian restaurant Salted & Hung, Drew Nocente has created a dessert that does exactly that. The Aussie chef with a passion for curing and smoking meat has created a menu of dishes that make use of different cuts of an animal – from pigs to fish.
No matter what kind of meat you find the best, when it comes to dessert, the deconstructed Tim Tams ($16) should be a no-brainer for diners. You'll get to try peanut butter ganache and feuilletine, milk chocolate ice cream, chocolate pearls and homemade biscuits – as well as a fully formed homemade Tim Tam.
Nocente has also made a home version of the Anzac biscuit ($6), with a dollop of salted caramel on top to take away.
Salted & Hung
12 Purvis Street, 188591
6358 3130
saltedandhung.com.sg