All it takes is a cookbook and a love for food to whip up something with a pro chef in Singapore.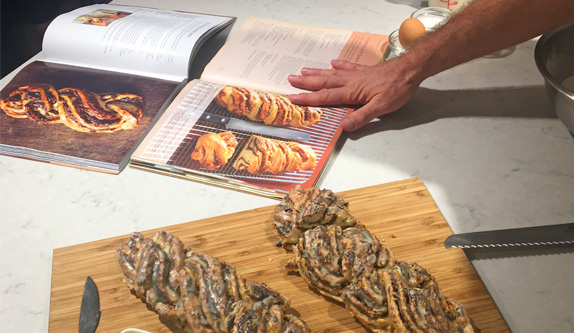 Nothing is more disputed a topic in Singapore than food. Ask someone about where to get the best laksa or chicken rice, and nine times out of ten you'll be bombarded by differing suggestions from friends, passers-by and taxi drivers. But what if you're a budding cook and want to get first-hand experience from a professional chef without forking out thousands of dollars for classes? If you want to be inspired and educated about great food, with the guidance and inspiration from chefs in Singapore, there's an ANZA group for you.
The ANZA Cookbook Book Club asks chefs around Singapore to suggest a cookbook for members to look over the recipes – chosen by the group coordinator – to discuss on the night. If you're happy to whip up one of the recipes to bring in, you'll get an expert opinion from the chef yourself. Then the group meets with the chef in their dining room to share experiences, thoughts and questions in a relaxed atmosphere.
'Living alone, but with a persistent urge to cook, and cook in a big way, I had little reason to try new recipes just for myself,' the group's founder Leonora Roccisano says. 'One way around that was to start my own Supper Club, which I have done. A further way, and a way that would really enhance my skills – and have me befriending chefs, creatures who truly intrigue me – was via the Cookbook Book Club. So many book clubs are available, so why not one for cookbooks?'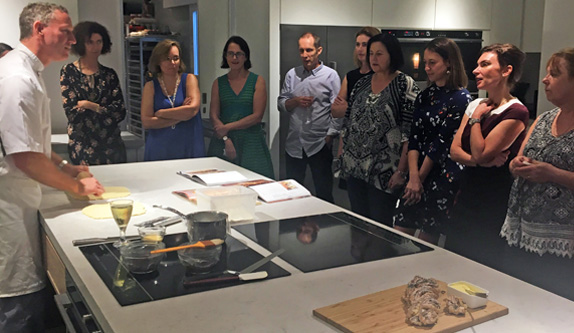 Dean Brettschneider walks through his date twist.
So far there have been two get-togethers, both with great success. The first was hosted by Daniel Chavez at contemporary Spanish restaurant Ola Cocina del Mar, featuring the book Ceviche Power by Gaston Acurio – chosen by Chavez, who described the author as the 'godfather of Peruvian cooking'. Chef Daniel Chavez spoke with incredible passion about Peruvian cooking, the seafood industry and how to shop for, prepare and enjoy a wide range of sustainable fish. ANZA members sat around the kitchen bar enjoying some of Chef Daniel's creations.
The second get-together involved New Zealand baker Dean Brettschneider of Baker & Cook and Plank. With another passionate presentation and, this time, a demonstration by the host chef, we found out about Dean's authoring and how it led him to various businesses – such as the Brettschneider's Baking & Cooking School and even television in New Zealand, Europe and Singapore.
Dean made a date twist featured in one of his cookbooks, and also a sweet dough, teaching us the techniques of each. Dean also listened to members sharing their experiences to attempt his recipes at home.
The group is still growing and keen for more get-togethers. To join the next Cookbook Book Club session, get in touch by email at leonora.roccisano@gmail.com, or call 9145 4054.