These lucky adopted dogs have a home and a great chronicle with the book Happy Tails, Gerard Ward finds.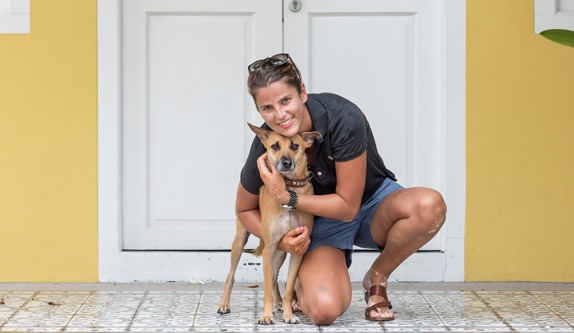 Vet-slash-photographer Sandra Macheroux and owner of FairPrice Antique Chantal Travers both have experience in working with welfare groups like Action for Singapore Dogs and Causes for Animals Singapore. 'Chantal and I have both seen the need for the promotion of "adopt don't shop" first-hand in Singapore and overseas,' Sandra Macheroux says.
Both also own adopted dogs, believing buying a puppy doesn't make sense with so many dogs living in shelters. 'There are so many beautiful strays to choose from at the many shelters, with independent rescuers or even just families relocating and having to leave their animals behind,' Macheroux says.
Chantal's adopted dog Tammy came from Action for Street Dogs when she was three months old, and Sandra's family adopted Kari from another expat family when she was around six years old. 'Poor Kari had been living with three other families before this,' Sandra says. 'The last expat owners were relocating and did not want her anymore.'
The final product, Happy Tails, is a 64-page book filled with dogs and their heroic owners. There are 15 owners, some who were generous enough to adopt more than one dog, in the book. It took only three months from the first brainstorm Sandra and Chantal had in Tiong Bahru, to the finished product.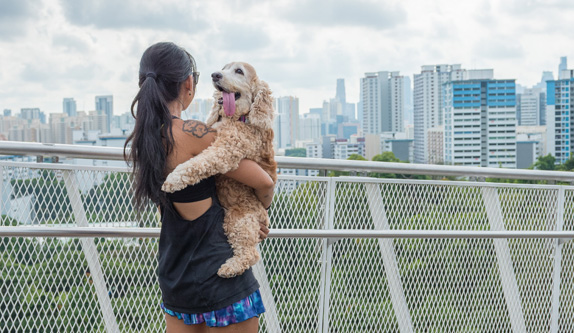 Owner Leslie with Lilac. Image courtesy Sandra Macheroux
All photos taken by Sandra are set in places around quintessential Singaporean spots – from Tiong Bahru and Joo Chiat to Haji Lane and Marina Bay. Not only do the dogs get featured, but the neighbourhoods too, making it a great miniature guide to the country. 'Being a keen street photographer I wanted to create a visually appealing book which tells the happy tales of the dogs, and also features cool parts of town because they are also their stomping grounds,' Sandra says.
Misconceptions about adopting dogs usually stand in the way of people when making the choice whether to buy a dog or adopt. 'People seem to think adopted dogs are not as "good" or cool, attractive, cute, etcetera, as purebred puppies,' Sandra explains. 'Some worry about the dog's temperament being less pleasant or stable as that of their chosen purebreed dogs.' An example Sandra mentions is of Golden Retrievers, who are seen as always super sweet and well-behaved. 'I certainly have met some quite aggressive Golden Retrievers, and there are no guarantees with any dog, purebred or mongrel,' she says.
Puppy farms are no help to the problem, often causing more problems. 'They often have genetic and behavioural issues which can become costly concerns on an emotional and also financial level,' Sandra says. 'There are plenty of gorgeous strays which would be excellent pets, and probably have a lot less health problems.'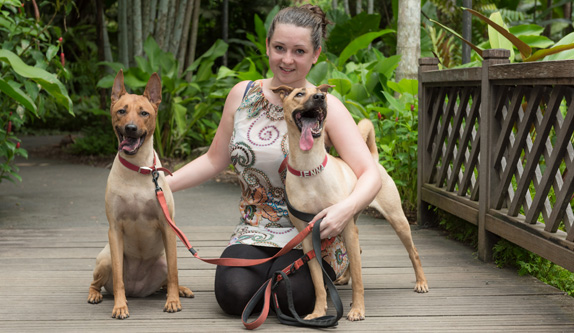 Jenna and Kia with their owner Sian. Image courtesy Sandra Macheroux
So far the book has been selling really well – at the time of printing, over $4,000 has been raised – with readers having that heart-warming knowledge of every cent from the $49 sales price going towards helping veterinary costs for shelters around Singapore. 'We will soon ask for submission of cases of stray dogs that are currently in need of veterinary care, then select those most in need of our financial support and will pay the vet bills directly,' Sandra says. 'We want to raise awareness and offer financial relief to shelters and rescuers so they can continue to do the amazing work that they do every day of the year.'
If anyone is considering adopting – or fostering a dog until a permanent home can be found – animal welfare groups and shelters are the best place to check. 'Of course volunteering at a shelter or at events organised by animal welfare groups is another great way to help,' Sandra says. 'Donating money or fundraising is another way that will help those that care for the dogs on a daily basis. Plus they can buy a Happy Tails book and can rest assured that the money will go where it is needed.'
To grab a copy of the book, visit Sandra's gallery at 16A Haji Lane, Chantal's FairPrice Antique at 315 Outram Road #01-10, or head to facebook.com/happytailsSG.