The latest ANZA group aims to get kids ready for fun in the sun while learning beach and surf awareness.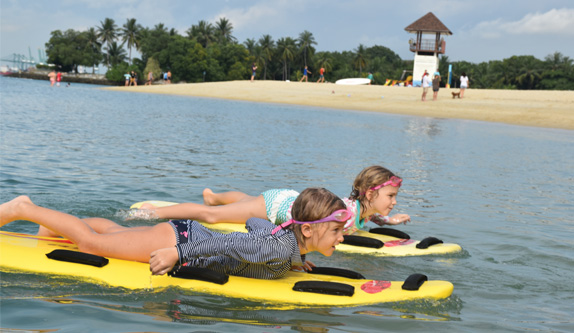 Continuing with the Australian tradition of good seaside fun and safety on the beach, Singapore now has its own Nippers programme. The parent-led volunteer group aims to teach children from 4-13 years of age about beach and surf awareness through fun activities and connecting with the great outdoors.
'For me, the motivation to start Singapore Nippers was, and remains, to create a community,' Skye Wellington, founder of ANZA Singapore Nippers says. 'Through starting Singapore Nippers I've met some wonderful people that I might not otherwise have crossed paths with, and I've been overwhelmed by the support of our passionate volunteers.'
Running early every Sunday morning at Tanjong Beach along Sentosa, classes begin with a quick clean-up of the beach – encouraging kids to take care of the natural environment, and to also keep participants safe from stepping on anything sharp.
After a warm-up, the volunteer coaches then take the kids through a series of Nippers events designed to build strength and speed, promote strategy skills, develop teamwork and perseverance, and ultimately prepare them for lifesaving. 'There's theory built in too but we do it all in a fun way, particularly for the younger kids,' Skye says. 'Every age group loves using the boards and honing their paddling skills.'
To finish, there's an all-ages relay and awards ceremony, where they rotate medals every week for the person in each age group who has demonstrated great commitment. 'We're not bothered about winning; it's more about encouraging confidence and participation,' Skye says.
Skye first became intrigued about starting a Nippers group after watching an episode of AusBizAsia where they profiled Hong Kong Nippers. Usually having surf is a critical part in why a Nippers club would exist, but if Hong Kong could run a Nippers group, why not Singapore? 'At the time I'd been feeling a little homesick and missing a sense of community,' Skye says. 'Anyone that's been a member of a surf club can tell you that they have great spirit, and connect people to a special coastal culture. Since then it has been a labour of love, gathering together people and information so that a group of us could finally get on the beach.'
Skye's two oldest children – 6-year-old Matilda and 4-year-old Flynn – are Nippers, and her husband Alex is a coach and coordinator. A beachside kid, Skye saw the beach like 'an enormous backyard' – where it was normal for all the kids to wander down and play on their own. 'My parents gave me that freedom but they wanted to know I was safe,' Skye says. 'I became a member of Coolum Beach Surf Life Saving Club, and Nippers every Sunday was like a religion. My mum helped organise sausage sizzles and my dad coached the march past team.'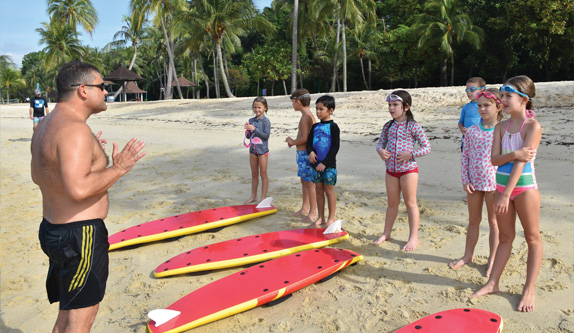 Lesson in progress.
Skye reached out to Surf Life Saving Australia to gain support, but due to bureaucracy the association couldn't get involved. Surf Life Saving Singapore's programme are limited to training lifeguards for pools, and not necessarily the activities that Nippers would do. Both associations however gave their blessings for the Nippers to be formed. 'Through lots of research, consultation with clubs and my own recollection of being a Nipper, we've created a programme that our growing group of kids seem to enjoy,' Skye says.
Since the first session back in April 2016 – with just a handful of people – the group has grown. 'I've had to sacrifice our garden hose so that we have markers for our Flags event and batons for relays,' Skye recalls. Nippers isn't necessarily only for the sporty type. 'I'm not known for being particularly sporty, but Nippers is more than a sport,' Skye begins. 'It creates a sense of belonging, and I think people feel happier when they feel part of something.'
For any interested kids wanting to join in, a basic swimming ability is necessary. Nippers helps build upon a child's strength and ability on the sand and in open water, but it is not designed to teach people how to swim. There is an assessment criteria for each age group which involves being able to swim certain distances, floating on your back and treading water for a certain period of time. 'Other than that, it's all about good humour, good friends, good sportsmanship,' Skye says.
Kids will get to learn a whole bunch of useful skills for the seas. Learning how to deal with a jellyfish sting; learning how to read surf conditions; learning how to be gracious whether you win or lose; learning how to pick yourself up again when you get sand kicked in your face. 'I'm not saying that Nippers is like becoming a Jedi, but there are a lot of lessons to be gained from an activity that demands that you respect the elements, your competitors and yourself,' Skye says. 'The endgame is that you graduate to being capable of saving lives through rescue and resuscitation, but I would say the most important thing is to have fun.'
Like a lot of ANZA's groups, all the coaches are volunteers who give up their Sunday morning sleep-ins to 'run around with a bunch of kids on the beach'. 'A few even allow themselves to get buried in sand up to their necks, be decorated with seaweed and act as a giant floaty,' Skye says. 'Some coaches have Bronze Medallions and life-saving certificates, were lifeguards themselves and ran patrols, have been swimming teachers, or are just ocean-loving.'
For anyone considering getting involved, Nippers has always relied on parent participation. Having more coaches means taking on more members. To become a coach, some surf lifesaving experience is an advantage, but not an absolute requirement – and the group offers training in how to run and teach Nippers events. If people want to offer their time in other ways – for example, supporting admin, events, fundraising and marketing functions – Nippers welcomes that. Planning trips away – to find some real surf – developing the programme, liaising with other clubs, or even issuing uniforms and bringing along fruit for the end of the session are all valuable contributions.
ANZA Singapore Nippers starts this month, with two seasons of 15 weeks each. Typically, Nippers starts at 5 years of age, but at the moment they offer the following age groups: 4-5, 6-7, 8-9, 10-12. 'Once we have the capacity to grow further we will create separate groups for each age and may expand up to 14 years of age,' Skye says.
Click here to find out more about the ANZA Singapore Nippers.