The ANZA Running group – the association's newest sports group – sums up its first year, Adam Jordan says.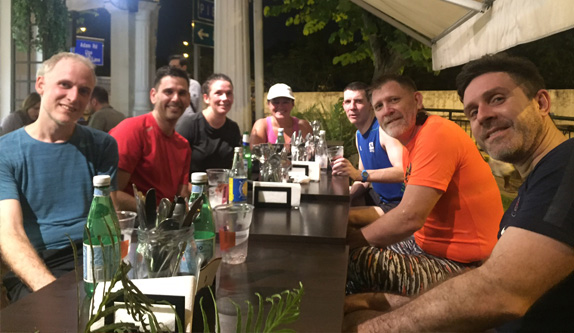 Now that 2016 has drawn to a close and an exciting new year is upon us, we at ANZA Running have taken the opportunity afforded by the festive season to pause and reflect on the last 12 months. 2016 was many things: challenging, exciting, sad and happy – a year of ups and downs. We couldn't have predicted that when ANZA Running was founded in 2015 Singapore was just coming into the start of a particularly bad haze season. Because of this, our first few months of Botanic Gardens runs were marred by cancellations and escalating PSI levels. At the end of 2015 we were still small and finding our feet. For us, 2016 was the year when ANZA Running blossomed into adulthood.
Over the course of the year we enjoyed – and occasionally struggled through – many regular Monday night runs following our regular route through the Botanic Gardens. Night runs mean plenty of mozzies – plenty of mozzie repellent too – and lots of spare change spent on water, juice, beer, scones, ready-meal lasagne and other delectable treats served to some very sweaty runners by some very patient staff at Gastronomia.
2016 also saw the start of a regular meet-up with the ANZA Cycling Triathlon group for training sessions at the running track on Evans Road. These were sometimes gruelling, but really helped us vary our running routines and get in shape for some longer weekend. Sometimes punctuated by a cheery 'good morning!' from fellow runners, runs were always followed by a big breakfast to replenish lost calories and undo all our good work.
The longer weekend runs were used as preparation for some organised competitive runs over the course of the year. ANZA Running participated in a range of 10km and half-marathon events across the island, including events at the Rail Corridor, Singapore Zoo, Jurong Lake, Coney Island, Punggol Waterway and around Marina Bay. The highlight of the ANZA Running 2016 calendar for many of our members was the ASICS City Relay at the Sports Hub, which pitted three teams of four ANZA Runners running a combined marathon distance in direct competition with each other – resulting in a very close run contest. All the teams finished only a few minutes apart.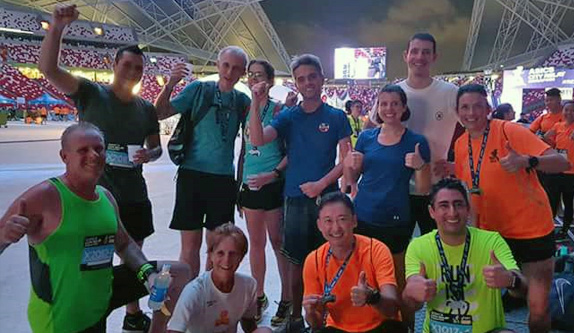 The ANZA Running Group together at the ASICS City Relay. Photos courtesy Adam Jordan and Megan Jane Evans.
2016 was also the year when we got our snazzy new running kit, provided by the ANZA Sports uniform supplier Slamstyle – if any one thing has established ANZA Running as a properly organised outfit over the last twelve months it was this. The added benefit of our new kit is that we are more easily recognisable for newcomers at the Botanic Gardens on Monday nights.
For our last Monday night meetup of 2016, we ditched the trainers and instead wrapped up the year in relaxed style at the inaugural ANZA Running Christmas Dinner at Boomarang Robertson Quay. This was a great way to wind down over some pub grub before everyone headed off to their respective Christmas destinations.
Now that 2017 has arrived in all its glory, we are looking forward to many other exciting activities, both planned and unplanned. Get in touch with us to find out more, or just show up at the Botanic Gardens – main gate at the MRT – at 7.20pm on Monday nights to join us. As well as our regular Monday nights, we are planning a wider range of organised runs in 2017, as well as a Beer Mile. We are excited to discover what the year has in store.
The ANZA Running Group meets Monday evenings at 7.30pm in the Singapore Botanical Gardens. Grab your shoes and join in! Email for more information.